What to do in a rental car accident
If you get into an accident while driving a rental car, you should first make sure everyone involved in the accident is OK. Then, call 911 if necessary and start documenting the accident, including exchanging information with the other driver. You should let your insurer and the rental car agency know you were in an accident as soon as you can. If you bought a loss damage waiver from the rental agency, then you won't need to pay for damage to the rental car. If you didn't buy a waiver, you may file a claim under your collision coverage instead.
4 min to read
What's the difference between rental car insurance and personal auto insurance?
Rental car insurance is an optional insurance policy you can buy from a rental agency that covers your liability for injuries to others or damage to their property, damage you cause to the rental vehicle, and medical expenses for you and your passengers if you're in an accident. Your personal auto insurance may already cover most of the things that a rental policy would, including liability, vehicle damage (if you have comprehensive and collision coverage), and medical bills for you and your passengers (if you have medical payments or personal injury protection coverage).
Since most personal auto policies include coverage for rental cars, it may not make sense to buy a separate insurance policy from the rental agency. However, there are some cases where you may want to add rental car insurance. For example, if you don't carry comprehensive or collision coverage, then buying rental coverage for vehicle damage (known as a loss damage or collision damage waiver) could be a smart choice.
Learn more about rental car insurance and when to consider buying it.
What do I do if I damage a rental car?
Whether you're driving your own vehicle or a rental car, the first thing you should always do after an accident is make sure that no one is injured. Call 911 if necessary and move to a safe location out of harm's way. Exchange contact information with the other drivers involved, including the policy information found on your proof of insurance.
The next step is to document the incident. Take photos of the damage to both vehicles. If there are witnesses, speak with them and record their contact information. Make sure you call the police and provide them with the facts of what happened, as you'll need a copy of the accident report for insurance purposes. You should also record the names and badge numbers of any officers present.
Finally, contact your insurance company and the rental car company and let them know you've been in an accident. Policies vary across rental car companies, but most will ask you to complete an accident reporting form.
Important note: If you bought a loss damage waiver from the rental agency, then you won't be financially responsible for the damage to the vehicle. If you didn't buy a waiver, then you would file a claim under your comprehensive or collision coverage to pay for repairs or to replace the rental car.
Learn more about the steps to take after a car accident.
What if an unauthorized driver causes the rental car accident?
When you rent a vehicle, you must list the number of people who may be driving the car. Each additional driver increases the rental cost, although some rental companies will allow you to add your spouse free of charge. The rental contract serves as your agreement that only those listed on the forms will drive the vehicle. If an unauthorized person drives the rental car and causes an accident, the liability might fall on you rather than your insurance company or the rental car company.
What if my personal vehicle is hit by a rental car?
An accident involving a rental car can be complex. If you're hit by a rented vehicle, the liability can fall on both the rental car company and the other driver's personal auto insurance. Depending on where the accident occurs and whether the driver chose supplementary coverage or not, the rental car company may only be liable for a limited amount.
In that instance, the driver's insurance should cover the rest of the damage. If the driver who caused the rental car accident has no insurance, your auto policy's uninsured motorist coverage may cover the rest of the damages.
What if my rental car needs repairs?
If your rental car needs repairs after an accident, you should contact the rental company first to see if they have preferred towing companies or if they could send a tow truck of their own. If the rental vehicle can still be driven, the company may request that you drive it to the nearest rental agency.
You typically won't need to wait for repairs to the damaged vehicle. After an accident, the rental car company will likely issue you another vehicle for the term of your contract.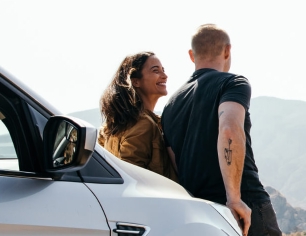 Quote car insurance online or give us a call