Can you rent an exotic car?
Yes, you can rent an exotic car. It can be an affordable way to drive the car of your dreams — even if only for a day. But renting an exotic car isn't as straightforward as renting a standard vehicle. You may need to meet more stringent requirements to rent a valuable luxury car. And specific makes and models can be hard to find outside large metropolitan areas.
3 min to read
How to rent a luxury or exotic car
First, you'll have to find a company that offers exotic car rentals. You may be able to rent through car sharing services, but your best bet is a rental agency. Traditional rental agencies tend to stock a few high-end cars, and some agencies focus specifically on exotics.
Once you find a company that offers a car you want to rent, submit a request for the rental, and be sure to review the terms and conditions as well as your rental car insurance options before you pay. When you get your exotic car rental, thoroughly inspect the car, document any imperfections or issues you spot, and notify the company about them before you drive away. You should also familiarize yourself with how to operate the vehicle and ask about any nuances.
Some requirements you can expect for drivers renting an exotic car or luxury car include:
Be 25 years or older
Provide additional identification for security against theft
Pay a security deposit based on the car's value
Learn more about insurance for sports cars or exotic cars.
Where can I rent a luxury car?
Not all luxury models will be available everywhere. Even national rental car chains may not have exotics in every office or city, so you may need to shop around. But if you're flexible and just want to rent a sports car for the weekend, you may have plenty of options.
If you're looking to rent a classic car or specific exotic car for a special event, start looking early. You'll have the best luck finding what you want in larger cities.
How much does it cost to rent a sports car or luxury vehicle?
Expect to pay significantly more for a sports exotic car rental than a standard car rental. Depending on the model, location, and timing, it can cost several hundred or even thousands of dollars a day. Exotic car rental prices vary based on factors like car value, location, and when you want the car. You may encounter increased prices on weekends and during wedding season or around other major events.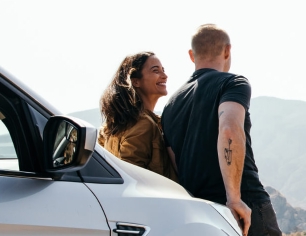 Quote car insurance online or give us a call