Can you rent out your car?
Yes, it's possible to rent out your personal car through a peer-to-peer car rental service like Turo or Getaround. To get started, you'll need to make sure your car meets your preferred service's requirements, confirm if your auto insurance allows you to rent out your car, register your car, and confirm or deny rental requests.
3 min to read
How do I rent out my car?
Follow these steps to get started renting out your car.
Determine your car's eligibility

To rent out your own car, you'll need to determine its eligibility with the company you have in mind. For example, consider some of one car rental service company's prerequisites:

Notify your car insurance carrier

Let your personal car insurance carrier know that you plan to rent out your car. Some auto policies prohibit renting out your car. In some states, your carrier can drop coverage if they learn that your car is being used for commercial purposes like car sharing. If this happens, you can compare car insurance rates to find a new insurer that allows you to rent out your car. It's best to let them know ahead of time so you're not unexpectedly uninsured if they find out and drop you.

Register your car with your peer-to-peer rental service

If you meet the above conditions and you're ready to list your car on a peer-to-peer sharing site, you'll register directly through their app or webpage. You'll describe your car, upload photos (the company may do this step for you), and list the dates of availability for your vehicle. You may be required to attend training. You'll also opt in to the service's peer-to-peer car insurance options for coverage while your car is being rented out.

Monitor your car rental requests

You'll be notified when your car is requested, and you'll either confirm or deny service and coordinate drop-off and return directly with the borrower. Each time your car is returned, do a thorough inspection for any damage so you can document and report issues to the agency as soon as possible.
What's the difference between car sharing and car rentals?
Traditional car rental agencies typically own their cars and have local offices, like at the airport, where you'll pick up your car. With a peer-to-peer service, an individual owns the car, so pickup is often at an individual car owner's home or an agreed-upon public location.
Car sharing services and rental agencies serve the same purpose: loaning a temporary set of wheels to drivers on the go. Both services require lendees to be covered by auto insurance, whether that's through the renter's existing policy or through rental car insurance offered by the rental agency.
Peer-to-peer car sharing is often thought of as a way to save compared to a traditional car rental. However, the overall cost boils down to location, demand, vehicle type, and planned usage for the vehicle. Depending on these factors, running errands around town for a day may be more affordable with a car sharing service, while going on a road trip may be better through a car rental agency. Renters might quote both options to determine what's right for their situation.
Go online
We ask easy questions, and you customize your coverages.
Get a car insurance quote
Call a rep
Talk with a licensed representative who can guide you through the process.
Call 1-866-749-7436
Through an agent
Connect with an independent agent in your area.
Find an agent online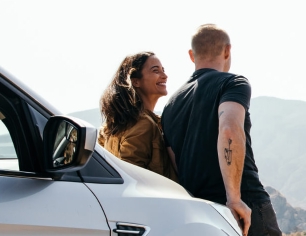 Quote car insurance online or give us a call