How can I perform a classic car VIN history check?
If you have your classic car's VIN, you can search classic car VIN decoder websites to help piece together a classic car history report, potentially including the car's make, model, engine and transmission type, year and location of manufacturing, and title history. Even if the classic car was made before VINs were standardized in 1981, some VIN decoder services may be able to help track the history of the car. Classic car VIN decoders may be free, and some require a fee depending on the service.
4 min to read
How do I start tracing the history of my classic car?
As you build a classic car history report, start by talking to any previous owners and even fans of your car. First-hand knowledge of your vehicle or its make and model may help narrow down the rest of your research process.
If you identify the classic car's VIN, you can start researching your classic car VIN history. However, VINs weren't standardized in the U.S. until 1981. Starting in the mid-1950s, auto manufacturers made up their own VINs. And prior to the mid-50s, the closest thing to a VIN was an identification or serial number stamped on major parts like the engine block. There was nothing to stop manufacturers from using the same identification number, so tracking classic car history by VIN isn't as simple as it is for modern vehicles.
Pro tip:
Always cross-check the stamped numbers you find on your classic's parts. Many cars produced before the mid-1950s have had their engines and other parts replaced over time. If a part's production number doesn't match other identification numbers on the car, some parts may have been replaced.
Where do I find my classic car VIN?
There are multiple places to look for the VIN or its equivalent on the car itself and in paperwork related to the car.
Finding the VIN on a classic car
Most VINs for classic cars can be found in one (or more) of these locations:
On the dashboard, near the windshield on the driver's side, and visible from the outside

Inside the driver's side wheel well

Under the steering column

On a sticker located on the driver's door edge or doorjamb

On the driver's door hinge post

On the driver's or passenger's side frame rail

On major parts like the engine (though the engine may have been replaced)
You may also find other identifiers on a classic car, including car number plates, engine code ID numbers, trim tag numbers, or an ID number stamped on an axle.
Paperwork that contains VINs
The VIN or other unique identifier may be recorded on these documents:
While documentation is useful in tracing the history of a classic car, it's also important to verify that the classic car you own — or the one you're thinking about buying — matches its paperwork. Learn more about inspecting classic cars and shopping for classic cars.
I have my classic car VIN — what do I do next?
A quick search online will reveal several classic car VIN decoder websites. Some require a fee — research their reputation before making a transaction.
You can learn the following about your classic car by tracing its VIN:
Type of car (passenger car, truck, etc.)

Type of engine and type of transmission

Location of the manufacturing plant

Title history (including ownership, damage history, and odometer readings)
Learning the manufacturing plant's location may help narrow down the range of your classic car history search. If the automaker had multiple plants at the time, each may have only shipped cars to dealerships within their specific area or region.
Where else can I learn about a classic car's history?
With a VIN or its equivalent in hand, you can research the history of your classic car through several online and offline sources:
State Bureau or Department of Motor Vehicles (some state BMVs/DMVs have more information and services available at their state capital location versus the satellite office locations)

Auto manufacturers (some, like Pontiac, have great resources for classic car owners)

Car clubs (national level for research; local level for stories, tips, and practical advice; forums and newsletters for help requests)

Attending car shows and talking to fans and experts of classic cars

Talking to previous owners to ask them what they know about the car and who owned the car before them

Talking to family members of previous owners (If you can't talk to a previous owner, talking to their family may lead to stories about the car and information about where it was driven and how it was used)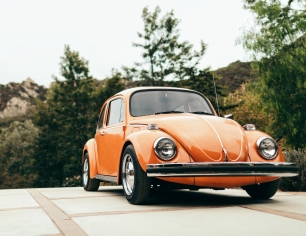 Get a free quote for classic car insurance today