What is motorcycle collision insurance?
Motorcycle collision coverage protects your bike against damage sustained in a collision with another vehicle or object, such as a fence, tree, or guardrail, regardless of fault. If you finance or lease your bike, your lender will typically require collision coverage.
4 min to read
Is motorcycle collision coverage required?
State insurance laws don't require collision coverage. Most lenders require collision coverage as part of the terms of your lease or loan. However, if you own your bike outright, collision coverage is optional. Learn more about motorcycle insurance requirements by state.
How does motorcycle collision coverage work?
Motorcycle collision coverage covers the motorcycle itself in the event of a collision with another vehicle or object, regardless of who was at fault. Situations where motorcycle collision coverage can help include:
Hitting an object (fire hydrant, road sign, tree, etc.)
Roadbed collision (sometimes referred to as dropping your bike)
Hit-and-run damage, including parking lots
Collisions with other vehicles, even if they're parked
If your bike is damaged is beyond repair in a covered incident, your motorcycle insurer will typically pay you the fair market value of your bike, minus your policy's deductible.
Example:Suppose you hit another vehicle and your bike is totaled. Regardless of which driver is at fault, with collision coverage on your policy, your motorcycle insurer may cover the fair market value of your motorcycle, minus your deductible. If your bike is worth $25,000 and your policy's collision deductible is $500, your insurer may pay you $24,500.
What's not covered?
Collision coverage can't be used for medical expenses and typically won't cover incidents out of your control, including fire, theft, vandalism, hitting an animal, glass breakage or damage from weather related issues. That's what motorcycle comprehensive coverage is for.
Is motorcycle collision coverage worth it?
The decision to purchase collision coverage depends on your tolerance for risk and your ability to pay for repairs (or a new motorcycle) out of pocket. Think about whether you'd rather pay less for insurance each month or be protected against a sudden expense if your bike is damaged. Also, consider your bike's value. The more the bike is worth, the more you stand to lose if your bike is involved in a collision.
Expensive motorcycles may cost more to fix, so be realistic about what repairs you could afford to pay for out of pocket. Even if the bike is totaled, collision coverage may help you pay off the rest of your loan. Learn more about motorcycle insurance coverages.
How to get motorcycle collision coverage
New Progressive customers
Get a motorcycle insurance quote online or call 1-866-749-7436 and see how affordable motorcycle insurance can be with Progressive.
Current Progressive customers
Log in to your policy or call 1-866-749-7436 to make sure your policy is up to date with the coverages you need.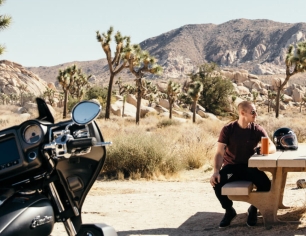 Enjoy life on two wheels with motorcycle insurance from Progressive