Do you need insurance for a motorcycle?
All states except Florida require proof of motorcycle insurance before you can register your bike and receive a license plate. You can buy a motorcycle without insurance, but if you plan to ride it legally, you'll need your state's minimum coverage limits. 28% of Progressive insured motorcycles have liability-only coverages, but there are many other benefits to motorcycle insurance to protect more than just your bike — it covers you if you're liable in an accident where you injure someone or damage their property.
4 min to read
How much motorcycle coverage do you need?
Each state has its own minimum requirements for liability coverage; however, you should carry limits equal to your net worth — this will safeguard your assets if you're liable in an accident. You can find your state's minimum liability coverage limits in the chart below.
Minimum liability limits for motorcycle insurance by state
Liability coverage is broken down into two types of coverage: bodily injury and property damage. The chart represents three numbers that indicate each coverage limit. For example, if the amount of liability coverage required for motorcycle insurance in your state has a minimum limit of 25/50/25, you need a $25,000 limit per person for bodily injury, a $50,000 total limit per accident for bodily injury, and a $25,000 limit per accident for property damage.
Select your state from the list below to see the minimum liability requirements:
Minimum liability requirements

Limit per person/Total bodily injury/Property damage

Minimum liability requirements

Limit per person/Total bodily injury/Property damage
Motorcycle insurance coverages you should consider:
Comprehensive and collision coverage
If you financed your bike, your loan or lease company will likely require you to carry physical damage coverages. But even if your motorcycle is paid off, comprehensive and collision are worth considering. These coverages will protect you against a collision with another object, theft, vandalism, hitting an animal, and weather-related incidents.
Uninsured/underinsured motorist coverage
According to the Insurance Information Institute, about 13% of drivers countrywide don't have insurance. Uninsured/underinsured motorist coverage can pay for your medical bills and any lost wages due to injuries from an accident with an uninsured or underinsured driver. Some states also offer uninsured motorist property damage (UM PD), which covers damage to your bike and can be especially beneficial if you don't have collision coverage on your policy.
Medical payments coverage
If you or a passenger are injured in an accident, this coverage can pay your medical bills, regardless of fault, up to the limits of your policy.
Progressive offers even more protection:
Carried Contents: Covers personal property that is damaged at the time of a covered loss or covers property stolen off your motorcycle.
Enhanced Injury Protection: Get up to $250 per week for two years if you're injured in a covered motorcycle accident and are unable to work.
Accessories and Custom Parts/Equipment: We automatically include $3,000 in accessory coverage to protect the upgrades and customizations you've made to your ride.
Total Loss Coverage: If your bike is totaled and is no older than one model year on a new policy, Progressive will pay you the full manufacturer's suggested retail price for a brand-new bike, minus your deductible.
Roadside Assistance: If you break down in the U.S. or Canada, we'll tow your bike to the nearest repair shop for free.
See additional information about all standard and optional motorcycle coverages.
When do you need motorcycle insurance?
Motorcycle insurance is required in 49 states and is the best way to be sure you and your bike are protected. Here are a few instances when you should have motorcycle insurance in place before jumping on your bike and hitting the road.
If you have a temporary permit: If your state requires insurance when you're a fully licensed rider, there's a good chance they will require it while you have a temporary permit as well.
If you're registering your motorcycle: Most states will require proof of insurance when registering your motorcycle. It's illegal to ride your motorcycle on the road if it is not registered.
If you financed your motorcycle: Most banks and lenders require insurance on their investments, so if you used a loan to buy your motorcycle, there is a good chance you will be required to have insurance.
Is motorcycle insurance required for scooters and mopeds?
This depends on where you live. Nearly all states require motorcycle insurance for fast scooters (models with engines greater than 50cc or that exceed 30 mph), but only about half of states mandate it for slow scooters and mopeds.
What is seasonal motorcycle insurance?
Seasonal motorcycle insurance, also known as lay-up motorcycle insurance, allows you to drop coverages or cancel your policy during the months you're not using your bike. However, this type of policy is handled differently based on the insurance company you choose and may not be offered in every state, so check with your insurance company to see how they handle lay-up motorcycle insurance policies. At Progressive, you can adjust or drop certain coverages when your bike isn't being used.
How do you get motorcycle insurance?
Online
Answer easy questions, choose your coverages, and get the protection you need.
Get a motorcycle insurance quote
Call a rep
Speak with a licensed representative who will help you through the entire process.
Call 1-866-749-7436
Through an agent
Get expert advice from a licensed independent agent near you.
Find an agent online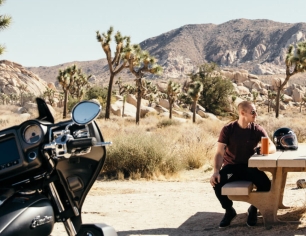 Enjoy life on two wheels with motorcycle insurance from Progressive