Is motorcycle insurance required in Florida?
Technically, Florida does not require riders to buy motorcycle insurance. But that doesn't mean you won't have to show you are financially responsible if you cause an accident. Florida law regarding motorcycle insurance is complicated, so it's essential to understand how to ride safely and protect yourself with Florida motorcycle insurance. Learn more about what coverages are available and what you can do to lower your insurance cost in the Sunshine State.
4 min to read
What are Florida's motorcycle insurance requirements?
If you want to ride in The Sunshine State, you need to be able to show proof of financial responsibility if you cause an accident. You can do so by purchasing liability insurance, obtaining a surety bond, or obtaining a certificate of self-insurance. The most common way to demonstrate financial responsibility is by purchasing liability insurance within the following minimum limits:
$10,000 in bodily injury per person
$20,000 in total bodily injury per accident
$10,000 in property damage per accident
Florida also requires minimum medical coverage for riders 21 and older who don't wear a helmet. For these riders, Florida requires a minimum of $10,000 in medical benefits protection through some source, which can be a health insurance plan and not necessarily a dedicated motorcycle insurance policy. If you're over 21 and wear a helmet, Florida law does not require you to have medical benefits protection.
What's included in a Progressive motorcycle insurance policy in Florida?
All of our policies with physical damage coverage are designed to get your bike back to its pre-accident condition or better. We cover parts at their full replacement cost — no depreciation — and pay for the same kind of parts you had before. If your bike has parts from the original equipment manufacturer, we'll pay for OEM parts for the repair. Bikes with custom parts get repaired with custom parts when you have the right accessories coverage. The same goes for upgrades.
All plans with comprehensive and collision automatically include $3,000 in accessories coverage to protect any equipment or customizations. For truly unique bikes, you can increase that coverage to as much as $30,000.
Comprehensive and collision coverage
Comprehensive coverage for your motorcycle may pay for costs associated with replacing or repairing your bike for events outside your control, such as fire, theft, vandalism, and accidents involving wildlife. Motorcycle collision coverage protects your bike from accidents involving other drivers and objects such as stop signs or parked cars. Both are optional if you own your bike, but they can help replace your bike and accessories should anything happen.
Other Progressive motorcycle coverages available in Florida
Medical payments can pay for injuries you or your passenger suffer, regardless of fault.
Total loss coverage is available for bikes no more than one model year old on a new policy. It can pay for the entire value of your bike in the event of a total loss, protecting it against depreciation.
Roadside assistance covers the cost of towing you to the nearest repair shop.
Carried contents and personal belongings are designed to protect any personal effects you're carrying when a covered loss occurs, including theft.
Enhanced injury protection protects you from long-term consequences of a crash with as much as $250 a week for two years if you're unable to work due to injuries sustained during a crash.
Learn more about available motorcycle insurance coverages.
How much is motorcycle insurance in Florida?
Rates for insurance vary according to many factors, including your driving record, age, location, coverages, and the kind of bike you ride. Florida is a low-cost state for Progressive insurance, with monthly rates falling below our national average.
Learn more about average motorcycle insurance cost.
Where to find cheap motorcycle insurance in Florida
When you're searching for cheap motorcycle insurance in Florida, you'll want to find a policy that balances cost with customized coverage that meets your needs. Progressive offers many discounts on motorcycle policies, including:
Multi-policy discount
Responsible driver discount
Pay in full discount
Safety course discount
Association membership discount
Learn more about motorcycle insurance discounts.
Pro tip:
Progressive's physical damage coverage pays to restore your bike with the same kind of parts it already has. We'll pay to replace original equipment with OEM parts and custom equipment with custom parts.
How to get motorcycle insurance in Florida
Online
We'll ask you a few simple questions, then you choose your coverages.
Quote motorcycle insurance
Call a rep
You'll speak with a licensed representative who will guide you through everything.
Call 1-866-749-7436
Through an agent
If you want local advice, we'll connect you with a licensed, independent agent near you.
Find an agent in Virginia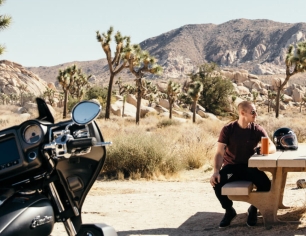 Enjoy life on two wheels with motorcycle insurance from Progressive