Does motorcycle insurance cover theft?
Adding comprehensive coverage to your motorcycle policy can cover your bike against incidents beyond your control, including theft. Depending on your insurer, you may also add coverage for stolen parts and accessories, such as your helmet, riding gear, or a sidecar.
4 min to read
How motorcycle insurance protects against theft
If your motorcycle is stolen, your policy's comprehensive coverage can pay for a new bike, minus your deductible. Comprehensive can also cover repairs to your bike if it was stolen and then recovered with damages. While comprehensive coverage is not required by your state, most lenders will require it if your bike is financed or leased.
Some motorcycle insurers, including Progressive, offer additional coverage for accessories, equipment, and custom parts. If you've made customizations to your bike, such as a diamond-stitch seat, additional custom parts and equipment coverage can help pay to replace the seat if it was stolen.
Does motorcycle insurance cover vandalism?
In addition to theft, comprehensive coverage can pay for damage caused by vandalism, such as if someone were to knock your bike over and damage it or tag it with graffiti.
Does home or renters insurance cover motorcycle theft?
There's a common misconception that homeowners and renters insurance will cover motorcycle theft, but that's not the case. Homeowners and renters insurance will only cover items in and around your apartment or house, but that coverage doesn't extend to motor vehicles.
However, homeowners and renters insurance might cover the theft of motorcycle-related items stolen from your home or apartment, such as riding gloves or a helmet. Check your policy to determine what's covered.
My motorcycle was stolen. Now what?
If you discover your bike is stolen, call the police immediately. The faster the authorities can begin searching for your missing motorcycle, the more likely it will be recovered. Make sure you provide all relevant information, including the make and model, mileage, location and approximate time of the theft, and any other pertinent details such as an included tracking device that may assist in finding the stolen bike. You'll also need this information for your insurance company.
After you've filed a police report, file a theft claim with your insurer and provide them with the proper information, including the police report number. Your insurance company may ask additional questions such as who else had access to the motorcycle and if any other personal items were stolen.
What do I do if my motorcycle is vandalized?
Motorcycles are easier to access than cars, making motorcycle vandalism a major concern for most riders.
If your motorcycle has been vandalized, call the police and take extensive photographs of the damage. Above all, do not ride the bike until the damage has been properly assessed by a police officer, otherwise you run the risk of the damages not being covered by your insurance provider. Only after you've filed a police report should you contact your insurance company to have the damage evaluated by your insurance adjuster, then a mechanic and/or repair shop.
What are the most commonly stolen motorcycle models?
Certain motorcycle brands tend to be more frequent targets of theft. According to the National Insurance Crime Bureau, Honda is the most-stolen brand of motorcycle in the country. That's followed by Yamaha, Harley Davidson, Suzuki, and Kawasaki, respectively. These brands carry the most value, and individual parts can easily be sold if the motorcycle gets stripped down.
Owning one of these brands doesn't mean you'll become the target of theft, but it increases the chances. With this in mind, make sure you have the proper coverage to protect your motorcycle against theft.
Pro tip:
Comprehensive coverage can pay to replace your stolen motorcycle as well as repairs if your bike is vandalized.
How can I reduce the risk of my bike being stolen?
A determined motorcycle thief who wants your bike will go to great lengths to get it, but there are ways you can make their job a bit tougher:
Install an anti-theft device
Park the bike in a highly visible area
Lock the ignition and brakes
Secure your motorcycle to an object like a pole — if riding with a friend, secure it to their bike
Use quality chains and lock
How to get comprehensive coverage for your motorcycle
Go online
We'll ask easy questions, then you choose coverages.
Quote motorcycle insurance online
Call us
Talk to a licensed representative who can help you choose the right coverage for you.
Call 1-866-749-7436
Talk to an agent
If you want local advice, we'll connect you with a licensed, independent agent near you.
Find an agent online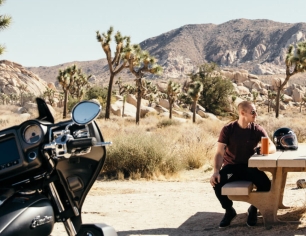 Enjoy life on two wheels with motorcycle insurance from Progressive