Florida car insurance
From Tallahassee to the tip of the Keys, when looking for dependable car insurance in Florida, all roads lead to Progressive. Explore Florida's car insurance requirements, optional coverages, and available discounts. We'll help you get a car insurance quote in Florida that best fits you and your budget.
3 min to read
Florida auto insurance requirements
In the Sunshine State, you need personal injury protection and property damage liability coverage. Since Florida is a no-fault state, your personal injury protection coverage may cover injuries you suffer in a car accident (up to your policy's limits), regardless of who causes the accident. Bodily injury and uninsured/underinsured bodily injury coverage are also recommended, but they aren't required. However, bodily injury coverage is required if purchasing uninsured/underinsured bodily injury coverage.
Contact your insurer to learn more.
This table shows the minimum limits you need for Florida's required and recommended auto insurance coverages:
Coverage
What it covers
Amount
Required: Personal injury protection (PIP)

What it covers

Your medical bills, lost wages, and death benefits.

Amount

$10,000
Required: Property damage liability coverage (PD)

What it covers

Damage you caused to someone else's vehicle or other property.

Amount

$10,000
Optional: Bodily injury liability coverage (BI)

What it covers

Medical costs, lost wages, sickness, death and pain/suffering experienced by someone else related to an accident you caused.

Amount

$10,000 per person
$20,000 per accident
Optional: Uninsured/underinsured bodily injury coverage (UM/UIM BI)

What it covers

Injuries to you or your passengers caused by a driver with too little or no insurance.

Amount

$10,000 per person
$20,000 per accident
Note: BI is required, and this coverage can be rejected.
Consider carrying comprehensive and collision coverage
When you lease or finance a vehicle, lenders will usually require you to carry comprehensive coverage and collision coverage. Comprehensive covers damage to your car from incidents out of your control, such as theft and hitting a deer. Collision covers damage to your vehicle if you hit another object, including another vehicle, guardrail, or tree.
Pro tip:
According to the Insurance Information Institute, Florida ranked fourth in the nation for most motor vehicle thefts in 2022. With comprehensive coverage, we can help protect your vehicle against theft.
Additional coverages to consider if you live in Florida
Medical payments
Medical payments cover the cost of injuries to you or your passengers after a covered accident. Learn more about medical payments coverage.
Loan/lease payoff coverage
If your vehicle gets damaged in a covered accident and you owe more on your car than it's worth, loan/lease payoff coverage can help pay the difference. You may also consider gap insurance, which works similarly to loan/lease payoff coverage.
Rental car reimbursement coverage
If your vehicle is in a covered accident, rental car reimbursement coverage can help pay your rental car fees.
Roadside assistance
Need a tow? Ran out of gas? Roadside assistance can tow your vehicle anywhere within a 15-mile radius, such as to a local mechanic. Our roadside assistance can also help you with a flat tire, vehicle lockouts, and more.
Additional custom parts and equipment
Additional custom parts and equipment coverage can pay to repair or replace parts you add to your car, such as custom rims, paint jobs, a stereo system, and more.
Progressive's car insurance calculator can help you select the amount of coverage you need and get a Florida car insurance policy that suits your budget.
How much is car insurance in Florida?
The cost of an auto insurance policy in Florida may vary based on a number of factors, like your driving history, the vehicles you drive, ZIP code, plus the limits and coverages you choose.
Learn more about the factors that impact car insurance rates.
What discounts are available for Florida auto insurance policyholders?
You can earn several discounts in a variety of ways:
Loyalty-based discounts
Have a teenage driver on your policy? We'll give you a teen driver discount after just one year with us.
Driver-based discounts
Having a smart student can lead to smart savings. If your child has a "B" average or better, you can earn our good student discount. And if they go to a school that's over 100 miles away from home, you can pick up a distant student discount too!
Quote & buy discounts
Getting an auto insurance quote online makes cents — literally. Just complete your quote online to earn our online quote discount. And if you pay for your policy upfront, you'll also get a discount for paying in full.
See all the car insurance discounts you could earn.
Pro tip:
Bundle & save! New customers countrywide who save bundling home and auto save over 20% on average.* Have questions before making the switch? Learn more about Florida homeowners insurance from Progressive.
Fast facts about auto insurance in Florida
Florida's financial responsibility law requires drivers with a DUI conviction and other infractions to carry bodily injury liability coverage.

In Florida, insurers can't charge a deductible for windshield replacements if the policyholder carries comprehensive coverage and meets all coverage requirements.
How to get car insurance in Florida
Go online
We ask easy questions, and you customize your coverages.
Quote auto insurance
Call a rep
Talk with a licensed representative who can guide you through the process.
Call 1-866-749-7436
Through an agent
Connect with an independent agent in your area.
Find an agent in Florida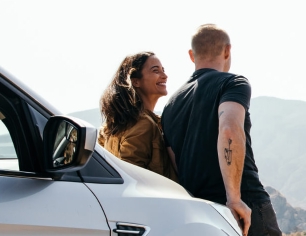 Quote car insurance online or give us a call