What are Florida's golf cart insurance requirements?
Florida doesn't require insurance for golf carts. But low-speed vehicles, or LSVs, are a separate category from golf carts in Florida and are required to have minimum liability coverage. If your golf cart is street legal, can go faster than 20 mph and has a state assigned VIN, chances are it can be categorized as an LSV and require insurance. But even if it's not required, golf cart insurance in Florida can offer financial protection in case of an accident.
4 min to read
How does Florida define a golf cart?
The Florida Department of Highway Safety and Motor Vehicles defines a golf cart as a motor vehicle designed and manufactured for use on a golf course for sporting or recreational purposes that can't exceed 20 miles per hour. They can be driven on designated roadways that have a max speed limit of 30 mph.
Low-speed vehicles, or LSV, are a separate category in Florida. LSVs have a top speed greater than 20 mph but lower than 25 mph. These vehicles can only be operated on streets where the speed limit is 35 mph or slower. The rules that apply to them are very different, too. Some golf carts have been converted to low-speed vehicles, so the distinction might not be apparent at first glance. But once your golf cart is street legal, it will require golf cart insurance.
What are the rules for operating a golf cart in Florida?
Golf carts don't need to be titled or registered in the state. According to the Florida Department of Highway Safety and Motor Vehicles, personal injury protection or property damage liability aren't required to operate one.
Operating a golf cart in Florida means adhering to the local rules. The type of road that's designated for golf cart use can vary by county. Normally golf carts aren't allowed to cross a county road or state highway, but there are some exceptions such as if the road or highway intersects a golf course or mobile home park.
Do you need a drivers license to drive a golf cart in Florida?
A driver's license isn't required to drive a golf cart in the state of Florida, though the golf cart operator must be at least 14 years old to drive on designated public roadways and must adhere to the local rules.
Are golf carts street legal in Florida?
The rules that apply to golf carts in the state may vary depending on the community, but only low-speed vehicles that meet minimum conditions can be "street legal." LSVs are allowed on public streets with a posted speed limit of 35 mph or slower and can cross a road with a higher speed limit. The operator must have a valid driver's license with them.
How can you make a golf cart street legal in Florida?
Converting a golf cart into a street-legal low-speed vehicle in Florida requires an inspection by the Florida Motorist Services Regional Office to ensure it has the following safety equipment: a windshield, driver-side, and interior rear-view or passenger side mirrors, headlamps, a parking brake, front and rear turn signals, a seatbelt for every seat, reflex reflectors as well as tail lamps and stop lamps.

It will then be given a vehicle identification number (VIN) assignment before you can apply for title and registration. You must bring several forms and documents, including a certified weight slip for the converted golf cart, and pay applicable fees. Then, once your golf cart has been converted to a street legal, low-speed vehicle, you'll need insurance. LSV insurance in Florida is required with at least $10,000 in personal injury protection and $10,000 personal damage liability coverage. This follows the state's no-fault law.
Do I need golf cart insurance in Florida?
Even though having golf cart insurance in Florida isn't a requirement, not having coverage can carry steep financial risks. A new golf cart usually costs around $7,000 to $9,000. If you're uninsured and in an accident involving your golf cart, you could be responsible for paying an injured person's medical bills and for any damages caused — even if you weren't behind the wheel at the time.
Florida ranked sixth in 2019 for states with the highest percentage of uninsured motorists, according to the Insurance Research Council. At the time, 20.4% were uninsured. In a golf cart accident involving another motorist, there's a chance that the other driver won't have any insurance coverage. You'd be unprotected — even if you weren't at fault.
Which insurance coverage applies to golf carts?
Adding a golf cart to an existing homeowners insurance policy is an option, but there may be limitations. For example, coverage may not follow you if you drive the golf cart outside your immediate community. In addition, it might not pay for your medical costs or third-party injuries.
A stand-alone golf cart insurance policy would likely include broader protections, including medical payments coverage, liability coverage, collision coverage, and uninsured motorist coverage, as well as comprehensive coverage for other damages from events such as theft, vandalism, flooding, wind, and fire.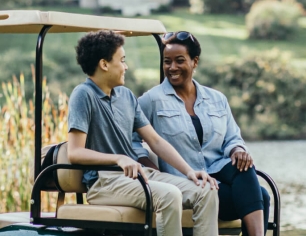 Cruise around in style with golf cart insurance from Progressive