What is comprehensive motorcycle insurance?
Comprehensive motorcycle insurance isn't a type of insurance but rather a coverage on your motorcycle insurance policy. Comprehensive coverage isn't mandated by law but is typically required by your lender if you finance or lease your motorcycle and may cover your bike against events out of your control: theft, vandalism, hitting an animal, fire, glass breakage, and weather-related issues. If your motorcycle is paid off, comprehensive coverage is optional.
3 min to read
Is comprehensive motorcycle coverage required?
Comprehensive insurance coverage for your motorcycle isn't required by law in any state. If you own your bike outright, it's up to you whether or not to get comprehensive coverage for your bike. However, if you're financing or leasing your motorcycle, your lender will usually require you to carry comprehensive as part of the loan or lease agreement. Learn more about motorcycle insurance requirements by state.
How does comprehensive motorcycle coverage work?
If an event beyond your control damages your bike, comprehensive coverage may pay to repair or replace your motorcycle, up to the actual cash value of the vehicle and minus any deductible. The amount of your comprehensive coverage deductible is your choice and generally falls between $250-$2000. The higher the deductible you choose, the lower your cost for comprehensive coverage.
What does comprehensive motorcycle insurance cover?
Comprehensive motorcycle insurance coverage protects your ride against damage resulting from the following:
Severe weather (hailstorms, hurricanes, etc.)

Vandalism and malicious mischief
What isn't covered?
Damage resulting from a collision with an object, including the ground due to accidentally knocking your bike over, won't be covered by comprehensive. Those incidents fall under motorcycle collision coverage. Normal wear and tear also won't be covered.
Should I get motorcycle comprehensive coverage?
If your motorcycle is paid off, comprehensive coverage becomes optional. The decision to purchase comprehensive depends on your budget and/or risk tolerance. Consider how much you'd be willing and able to pay out of pocket if your bike was stolen or damaged to due to incidents beyond your control. The newer and more valuable the bike, the bigger your loss can be if something happens.
Keep in mind, you can bring down the cost of comprehensive coverage by choosing a higher comprehensive deductible amount. While a higher deductible may mitigate smaller claims, you may want the protection if your bike is stolen or damaged beyond repair in a covered incident.
How to get comprehensive coverage for your bike
New Progressive customers
Get a motorcycle insurance quote online or call 1-866-749-7436 and see how affordable motorcycle insurance can be with Progressive.
Current Progressive customers
Log in to your policy or call 1-866-749-7436 to make sure your policy is up to date with the coverages you need.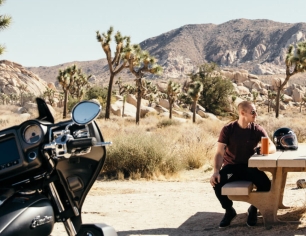 Enjoy life on two wheels with motorcycle insurance from Progressive