Do I need insurance for a moped or scooter?
Though definitions differ, a vehicle is typically considered a moped if its engine is less than 50cc — 50cc or more, then it's a scooter. Scooters are legally required to have liability insurance coverage in most states. Do mopeds require insurance coverage, too? About half of the United States requires moped insurance. But even if coverage is not required, it can provide extra security for your scooter or moped and help you save money in the long run.
4 min to read
What's the difference between a scooter and a moped?
Scooters and mopeds are both two-wheeled vehicles that look similar, but there are a few key differences that set them apart:
Engine
Scooters are vehicles with an engine size between 50cc and 250cc. Mopeds are less powerful and have engines smaller than 50cc.
Speed
Scooters can reach speeds up to about 60 to 70 mph, while mopeds reach maximum speeds of around 30 to 40 mph. Mopeds generally aren't allowed on highways, while scooters are allowed on the highway in certain states.
Design
Scooters have a step-through design with a platform for the rider to rest their feet while driving. Some mopeds share this design, but they typically feature pedals.
While these are the standard traits for scooters and mopeds, definitions can change slightly from state-to-state. Verify whether your state considers your vehicle a scooter or moped to ensure you're getting the proper insurance coverage.
Do you need insurance to drive a scooter?
Scooters fall under the same umbrella as motorcycle insurance, and most states require some form of insurance for any scooters with an engine of 50cc or higher. Bodily injury and property damage liability coverage is typically the minimum requirement and this form of insurance will help cover property damage and injuries to others when you're considered at fault in the event of an accident.
You may need to purchase additional coverage such as comprehensive coverage and collision coverage if you're leasing or renting your scooter, as lenders often want to provide extra security for their property.
Do you need insurance for a scooter in every state?
Scooter insurance is a requirement in most states. And even if your state doesn't generally require scooter insurance, you may need to purchase a minimum of liability insurance if you're leasing your vehicle or have been involved in a previous accident.
Even if scooter insurance isn't a legal requirement where you live, you may consider purchasing it. If you're ever involved in an accident and found to be at fault, you'll be financially responsible for covering injuries and damages. Without a liability insurance policy, you'll have to pay these expenses out of pocket. Note that you may also need to register your scooter with the state even if you aren't legally required to purchase an insurance policy.
Do you need insurance on a moped?
Most states don't legally require moped owners to have insurance. However, if you're renting or leasing your moped, your lender may want you to be insured even if it's not mandated in your state.
Like scooters, mopeds typically fall under the category of motorcycle insurance. When insurance is necessary, liability coverage is the minimum required, but additional motorcycle insurance coverages are available if you'd like extra protection for your moped and belongings.
Do you need insurance for a moped in every state?
Liability coverage for mopeds is mandatory in about half the states. In some states, moped insurance may only be required for vehicles whose maximum speed exceeds a certain limit. Always check the specific laws for your state before going out on the road. You may also need to register your moped in each state – regardless whether or not you have insurance.
Pro tip:
If you live in a state where scooter or moped insurance isn't required, you may save money in the long run by taking out a basic policy to avoid out-of-pocket expenses associated with any damages or injuries caused if you're found at fault in a collision.
How to get scooter and moped insurance
Online
Answer easy questions, choose your coverages, and get the protection you need.
Quote scooter and moped insurance
Call a rep
Speak with a licensed representative who will help you through the entire process.
Call 1-855-347-3939
Through an agent
Get expert advice from a licensed independent agent near you.
Find an agent online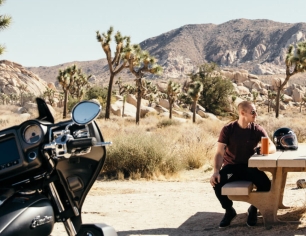 Enjoy life on two wheels with motorcycle insurance from Progressive