What is a motorcycle inspection?
A motorcycle inspection examines various components of the vehicle to ensure it's roadworthy and safe to operate. While inspections may vary from place to place, you can expect a motorcycle inspection checklist to cover the fuel systems, brakes and more.
2 min to read
Do motorcycles require inspections?
Many states require motorcycle inspections. Some states require motorcycles to undergo emissions tests, while others only require these if you live in certain counties. Understanding the requirements of your area, as well as what to expect from a motorcycle inspection, may help streamline the process. Motorcycle inspections typically cover:
Fuel system
Brakes
Seat
Lights
Horn
Windscreen
Tires and wheels
State motorcycle inspection requirements differ, so a motorcycle inspection in one state may meet another state's requirements. The parts of a motorcycle examined in an inspection will also differ from state to state. Learn more about motorcycle insurance requirements by state.
What are common motorcycle inspection points?
While there are differences among state motorcycle inspection requirements, you can expect the mirrors, lights and brakes to be part of the process.
Mirrors
Motorcycles must have mirrors. An inspection will check the status of the mirror or mirrors and their placement.
Lights
Most states want the taillight to be visible from at least 200 feet behind and the headlight to be seen from different distances based on speed. Due to the lower visibility of motorcycles compared to cars, the lights play a huge role in safety. Problems with lights can make a motorcycle unsafe to drive.
Brakes
If your motorcycle was manufactured after 1973, it should have one brake at the front and one at the back. However, some states only require a single operational brake on older bikes.
How do I get my motorcycle inspected?
States that require a motorcycle inspection have designated places to take your bike. These motorcycle inspection stations will charge a set price and give you details about the inspection score, whether it passes or not, and report this information to the relevant authorities.
You may need to schedule an appointment ahead of time. Take the time to look at your state's requirements so that you know what to expect and what should be examined before you take your motorcycle in.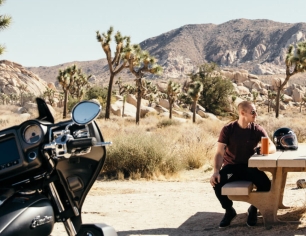 Enjoy life on two wheels with motorcycle insurance from Progressive