For sale by owner vs. realtor: Which option is better for you?
A real estate agent handles a lot of stressful and time-consuming tasks that come with selling a house: marketing, showings, and legal paperwork, to name a few. However, listing your house as "for sale by owner" (FSBO) means you won't need to pay extra commission to a real estate agent — 6% of the selling price is standard and it is split 50/50 between the seller's and buyer's agents. You may benefit from selling your house by owner if you already have an interested buyer lined up or you have real estate knowledge yourself.
4 min to read
What are the differences between selling a house by owner or with a realtor?
If you're planning to put your house on the market anytime soon, you may be asking yourself whether it's worth selling your home by owner vs. selling your home with a realtor. It's no surprise that hiring a real estate agent (also known as a listing agent) is the easier of the two options, but each method of selling can have its advantages depending on your situation.
What are the benefits of selling your home with a realtor?
Selling a house can be a full-time job. If you already have your own job and family responsibilities, it may be tough setting aside the extra hours it will take to market and sell your home. A realtor handles a lot of things behind the scenes, including:
Staging and photography: Many real estate companies work with home stagers and professional photographers who know exactly how to present your house to make it as attractive as possible to potential buyers.
Pricing the house: Professional agents understand the local market well, so they'll know how to price your house to appeal to buyers while also helping you get the best profit. There's less risk of over or underpricing your listing.
Marketing: Licensed real estate agents have access to a website called the Multi Listing Service (MLS). This is the primary way buying agents find listings to share with their clients. If you don't have your real estate license, you won't be able to post your FSBO listing on MLS.
House showings: A real estate agent will handle any open houses or one-on-one home showings, so you don't need to worry about changing your schedule or leaving work early to meet potential buyers. Many potential buyers also feel more comfortable viewing a house with a third party.
Legal paperwork: Realtors need to take classes and renew their licenses every couple of years to ensure they're up to date on all the legal processes involved in selling a house. If you choose to go the FSBO route, you may want to hire a real estate lawyer to help you with the paperwork to make sure everything is done by the book.
If you're selling your home, learn more about how to prepare to buy a home and what the best time to buy a home may be.
What are the benefits of selling a house by owner?
The main reason some homeowners prefer to sell a house without a realtor is the extra savings that can come out of the deal. Realtors typically get a 6% cut of the sale as commission — 3% for the seller's agent and 3% for the buyer's agent. That may not seem like a lot, but a 3% commission on a $350,000 listing rings in at $10,500. That amount can cover the work an agent does while selling your house, but sell the house yourself, and that extra cash will stay right in your bank account.
Note that you'll likely still need to pay a commission to the buyer's agent even when selling a house without a realtor. This is their commission for helping the new homeowners on their house-hunting journey. You may be able to negotiate an amount with them, but keep in mind that 3% of the sale price is standard.
When should you consider selling a house without a realtor?
You may consider listing your home as FSBO vs. with a realtor if you already have an interested buyer, or you have real estate experience yourself. If you already have a buyer lined up — for example, a family member or neighbor — you can save thousands without the added stress of marketing the house, conducting showings, or potentially having the house sit on the market for a long stretch of time. However, one expense that may be worth it is a real estate attorney who can make sure you're following all the correct legal processes along the way.
Another time it can be beneficial to sell a house without an agent is if you have a strong knowledge of the real estate industry or you're a realtor yourself. You'll already have the same connections and knowledge as another licensed agent. And if you don't mind putting in the work on marketing and selling the house, you'll get to keep your portion of the commission from the sale.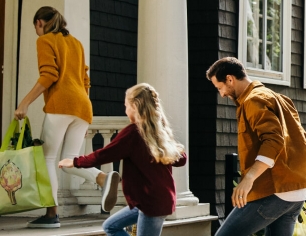 Quote homeowners insurance online or call for advice