How to get your house ready to sell
What you need to do to get your house ready to hit the market can vary based on the home's condition, location, and your priorities as a seller. Much of the checklist for selling a house involves determining any negative features and addressing them. You want to make sure your home is in the best possible condition without exceeding your budget to get there.
4 min to read
Checklist for selling a house
While there is no official checklist for selling a house, here are six helpful tips and best practices that every seller should consider.
1. Find a real estate agent
The right real estate agent will help guide you through the process of selling your home. Based on local real estate data and trends, they will determine your home's value. They may advise you on which repairs are worth making before selling to increase the property's value.
Talk with friends and family to see if they have an agent they recommend. You may need to interview several agents before you find the right one. You might also make sure they're familiar with your area and are on the same page as you are.
2. Have your home inspected
While a pre-listing home inspection is not required, it can be a helpful tool when taking stock of your home's assets and flaws and should be on your home selling checklist. It will reveal what repairs and upgrades you can make. Additionally, you and your agent can calculate an estimated cost of those repairs and determine what's in your budget or if you want to sell your home as is.
3. Consider larger repairs
Larger home repairs before selling are often more involved, more expensive, and may require the help of professionals. They can become a massive undertaking and delay the listing process. However, the right repairs can increase the amount your home sells for and are likely to have a high return on investment (ROI).
In recent years, major repairs with high ROI have included installing new garage doors, kitchen upgrades, and replacing the house's siding. Speak with your agent about which home repairs may be worthwhile.
4. Make minor cosmetic repairs
Tackling smaller cosmetic flaws on your home selling checklist is a simpler process than larger-scale renovations and repairs, and they won't break the bank. Something as simple as repainting dull or stained walls, mending a broken fence, or doing some basic landscaping can improve your home's curb appeal.
If you have pets, look for any animal-related damage to your home and repair it. You never know if a prospective buyer is averse to animals or what their deal-breakers are. Removing evidence of pets can go a long way in making your home desirable to more buyers. Keep these fixes and updates neutral but clean and stylish.
5. Depersonalize the space
Your agent may recommend staging your home. Staging involves furnishing and styling the home neatly without distracting personal items. Potential buyers should be able to picture themselves living in the listed home. They want a blank canvas. Major statement furniture and artwork or framed family pictures can deter buyers.
Make sure to store personal items out of sight and that your house is organized and clean. You can combat clutter by updating your storage system. Under-bed and closet storage containers are convenient options as they keep your belongings out of sight while still accessible. Organizing your home adds a tidy, streamlined quality to your home's staging, while also ensuring that any sentimental or valuable items are kept safely out of sight.
6. Hire a photographer
A potential buyer's first glimpse of your home will likely be in an online real estate listing. The photographs must make your home look inviting and beautiful. While taking photos of your home may seem simple, quality real estate photos require a skilled hand.
A professional photographer, particularly one with real estate photography experience, will find your home's best angles and optimal lighting. Professional photographs ensure that your home's best foot is being put forward and make potential buyers eager to see it in person.
What happens when the home is ready to be listed?
One of the final items on your preparing your home for sale checklist is determining a fair asking price. Once you've made the optimal repairs and prepared your home for viewings, it's time to start fielding offers. Your real estate agent will negotiate offers and make sure the closing process meets the priorities you have set.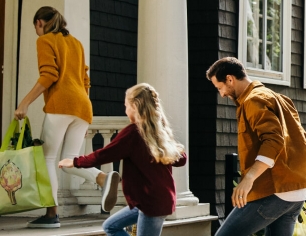 Quote homeowners insurance online or call for advice