What are closing costs?
When buying a house, closing costs are the various fees you and the seller pay to service providers that are part of the home-buying process, usually 2% to 5% of a home's purchase price. Home-buying closing costs can include attorney fees, property appraisals, and mortgage fees. Sometimes these are fixed costs, and other times they're negotiable. Who pays what closing costs can also be negotiated between buyer and seller.
3 min to read
How do closing costs work?
Both buyers and sellers will have to pay closing costs when the closing documents are signed. These costs can vary, depending on state laws and the property's purchase price. Before closing, you will be provided a HUD-1 settlement form itemizing the closing costs. It's a good idea to review this document carefully to ensure there are no surprises or discrepancies.
Closing costs for buyers include fees paid to the mortgage company for originating the loan, legal fees paid to the attorney who handles the real estate transaction, homeowners association fees, and pre-payments for homeowners insurance and property tax. Sellers generally pay real estate commissions and title transfer fees.
Sometimes, especially in a buyer's market, you can negotiate for seller concessions, which will reduce your closing costs by having the seller pay them.
Common closing costs
Prepaid costs
An assortment of prepaid expenses can impact your closing costs, including taxes, homeowners insurance, and homeowners association dues, if applicable. Upon closing, your lender will take a portion of your mortgage payment and transfer it into your escrow account. Usually, lenders expect at least two months' worth of payments, which ensures you, as the buyer, have enough to cover future payments. Then, when it comes time to pay your taxes or homeowners insurance, the funds are available in this account. Learn more about the cost of homeowners insurance and how escrow and homeowners insurance works.
Appraisal costs
In almost all purchase-to-sale transactions, an appraisal will take place. An appraisal is essentially an unbiased professional assessment of the home's value. An appraisal is crucial as it helps ensure the buyer isn't borrowing more from the lender than necessary. Depending on the size, location, and condition of the house, appraisal costs can vary. According to Home Advisor, the average cost of an appraisal for a single-family home is $349. However, a multi-family home costs more, with appraisals averaging $600 to $1,500.
Title service costs
When you close on a house, you'll receive a deed or "title." This important document recognizes you as the legal owner of the property. To err on the side of caution, though, lenders initiate several searches before closing to ensure there aren't outstanding claims or liens. These title-related fees can include a title search, title settlement, and recording expenses. Additionally, these costs depend on the price of the house, its location, and the complexity of the title's chain of ownership. On average, though, a buyer can anticipate spending from a few hundred dollars to several thousand at closing.
Miscellaneous costs
Other fees the buyer is expected to pay at closing can range from miscellaneous legal expenses to mortgage-related services. For example, additional costs can include but aren't limited to opening an escrow account, underwriting the title, flood certification, courier fees, and loan origination fees, to name a few.
Final closing cost numbers
As a buyer, keep in mind that closing costs will vary, and you can expect to get an idea of your final numbers over the last few days before you close on your house. Until that time comes, you can keep a rough estimate in your head by estimating the cost of the primary fees: appraisal and home inspection costs, varying mortgage application costs and mortgage broker fee, two months' worth of property taxes and homeowners insurance payments, title search, and lender's and owner's title insurance costs.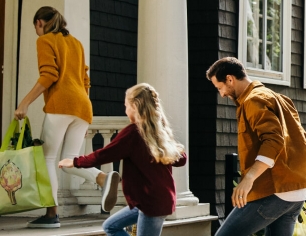 Quote homeowners insurance online or call for advice