Can I get a home insurance discount for a security system?
Many insurers provide discounts if you have specific safety devices installed in your home. This goes beyond strictly home security systems and may include other safety and theft prevention measures, such as monitored smoke detectors.
2 min to read
Ways to save on home insurance by protecting your property
You may receive an insurance discount for a variety of safety and anti-theft devices, including:
Security systems: There are many security systems on the market today, with both DIY and professional monitoring options. Many providers will offer insurance discounts for video surveillance cameras and home security systems equipped with an alarm, door and window sensors, and motion sensors. These devices are designed not only to deter potential criminals but to alert you (and your neighbors) of an intrusion.
Smoke detectors and fire alarms: While many insurance companies require you to have smoke detectors in order to qualify for a policy, having monitored smoke detectors may qualify you for a discount.
Sprinkler systems: Besides having monitored smoke detectors, having a sprinkler system may provide extra savings.
How much would a security system lower my home insurance premium?
The savings you can expect from a home security system discount will vary by insurer, as well as the specific types of anti-theft or safety devices your insurer offers a discount for. However, the true value of a security system lies in the loss it might help prevent. When you consider that the average loss from a single burglary typically exceeds $2,000, adding a home security system may be worth the investment.
Besides theft, what other benefits does a home security system offer?
Outside of protecting your home from potential thieves, your home security system may also offer fire and smoke protection. Depending on the system, it might also include water sensors to help detect leaks before they worsen or warn you of a malfunctioning HVAC system.
Pro tip:
When installing a home security system, make sure no exterior wiring is visible. That will possibly prevent would-be burglars from disconnecting or damaging the system.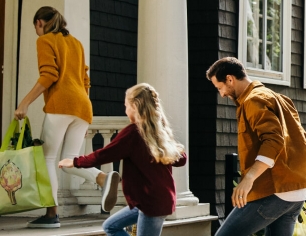 Quote homeowners insurance online or call for advice