What is the best shallow water boat?
The best shallow water boats share common design characteristics such as shallow drafts that make them suitable for low-water levels. They also meet maneuverability standards that help you avoid end swapping, a potentially dangerous situation where you lose control of the boat and spin out. However, the best boat for shallow water will depend on what kind of water-related activities you want to pursue and how many people you want to bring with you.
5 min to read
What do all best boats for shallow water need?
The best shallow water boats should have three qualities including a shallow draft, flat or v-shaped hull, and stability and maneuverability in the water.
Draft depth
Draft depth refers to how deep below the water the boat rides. The draft depth is often measured in feet on larger boats, especially the best boats for the ocean. It's measured in inches on the best boats for shallow water.
Pay attention to the difference between running draft — the draft when a powered boat is moving at speed — and the static draft – when the boat is still. Running draft is shallower than static draft and may help you traverse shallower waters as long as you keep moving. You can get into trouble if you stop without considering the static draft too. Learning the particulars of driving a boat in shallow water can help you understand how shallow a static draft you need.
Flat or v-shaped hull
Flat-bottomed boats offer some of the shallowest drafts because they don't taper to a point below the water. As a result, flat-bottomed boats like Jon boats are among the best boats for shallow water fishing and make some of the best shallow water river boats in general.
However, while flat-bottom boats have some of the shallowest drafts, they don't offer as much stability on deeper or choppier water as other hull designs. If you're looking for a shallow water boat that can also handle rougher water, a shallow or modified-v hull may be a better choice.
Stability and maneuverability
Deep and choppier water requires a deeper draft for stability. In calm, shallow waters, flat and shallow-v designs offer great stability. Flat bottoms may be more difficult to maneuver in even mildly choppy water, so consider your destinations carefully when shopping for the best shallow water boat.
Another maneuverability concern is a kind of accident called end swapping. According to the U.S. Coast Guard, "an end swapping event occurs when a boat enters into a turn and loses its ability to maintain steerage contact with the water, and in some cases, violently spins out."
End swapping is especially common in many types of boats, including flats boats, tunnel boats, and powered skiffs designed for very shallow water and capable of high speeds. In some cases, a shallow water boat's safe maneuvering speed may be less than its top speed.
Other considerations for shallow water boats
There are some additional factors to consider depending on the activities you'll be enjoying on the water:
Carrying capacity
Think about how many people you plan to take and how much cargo you need while boating. If you want to go catch-and-release fishing by yourself, a small Jon boat or other small, flat-bottomed boat may be your best shallow water boat.
Flat-bottomed boats often need weight distributed evenly to perform at their best. That can get tricky with multiple passengers or lots of cargo. You'll need more space if you want to bring your catch to shore or spend a day on the water with friends. In these cases, a bass boat or flats boat are some of the best shallow water boats since they provide a wide deck and a more v-shaped hull. Bass boats are often equipped with a full day on the water in mind. Learn more about what to consider when buying a fishing boat.
Motor specs
The design and power of the motor are important in determining the best boat motor for shallow water. A motor with adequate power output is necessary to get up on a plane and reduce your running draft. Too much power for the boat's size, stability, and center of gravity, though, and you risk end swapping. Many shallow water boats also have the motor on a jack plate, which allows you to raise and lower the motor to get it in the right position as water depth changes. Some shallow-water boats have a jet engine rather than a prop motor.
If your goal is to get close to nature and you want to travel in very shallow waters, a boat without a motor can be one of the best shallow water boats.
Kill switch lanyards
A kill switch lanyard — a cord that attaches to your clothes to stop the motor if you go overboard — can be a smart safety precaution for all boats. But they are critical on shallow water boats that can go high speeds.
Tunnel-hull design
Tunnel-hull boats have a channel in the hull that draws water in and directs it upwards when the boat is on a plane. Combined with a jack plate, the boat can achieve even shallower running drafts than usual — sometimes just a few inches — since water can reach the propeller when raised above the hull's bottom.
This setup creates some of the best possible boats for very shallow water when running, but boats with this arrangement can be more prone to end swapping. You can also more easily get stuck when you stop due to the difference between static and running drafts.
Get boat insurance coverage for your shallow boat
New Progressive Customers
Call 1-866-749-7436 or get a boat insurance quote online.
Current Progressive customers
You can easily add these coverages to your boat by logging in to your policy or calling us at 1-866-749-7436.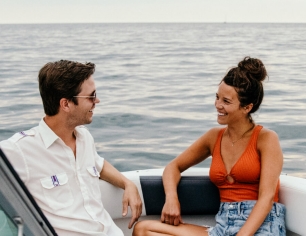 Enjoy life on the water with boat insurance from Progressive