When is the best time to buy a boat?
The best time to buy a boat is typically in the fall. The weather is getting cooler, and the boating season is mostly over. Boats are coming out of the water and going into dry storage for the winter, and most people have finished shopping for boats until the spring. With fewer buyers in the market, it's easier to negotiate with sellers who want to sell their boats before the winter.
3 min to read
Why is fall the best time of year to buy a boat?
Part of what makes fall the best time to buy a new boat is that most sellers don't list their boats for sale that late in the season. Boats are typically listed for sale earlier in the summer when prospective buyers can still use them before the end of the summer.
Whether you're buying a fishing boat, a powerboat, or a pontoon boat, buyers in the market for a boat have a few things going for them when they purchase in the fall.
Boating season is over
There's virtually no more time to use a boat for the season, and sellers know this. Anyone who buys may have to wait six months before enjoying their new purchase. Not many people shop for boats once the weather turns cool. Most have moved on from boating for the year and some people are preparing their kids to go back to school.
Time for dry storage
Sellers also know that anyone buying a boat in the fall will have to pay for storage costs until it can go back in the water in the spring.
Deferred maintenance
Many people try to hold off on maintenance for their boats until fall and winter, so they won't lose time enjoying the boat during the season. But that also means they're putting off the cost of service. If a seller doesn't sell their boat to whoever is buying in the fall, they'll have to cover those maintenance costs before their boat goes back in the water in spring.
What is the worst month to buy a boat?
The worst month to buy a boat would be the summer months. Everyone wants to be out on the water as soon as it warms up, and sellers know that if they sell, they're probably giving up the rest of their time on the water for the spring and summer. Plus, they've already arranged dock space and had their boat serviced, so it's ready to use.
With so many buyers looking for boats and sellers wanting the best price, it isn't easy to negotiate a price on a new boat in the peak summer months. That's why waiting until fall can help you find the best deal. Learn some tips to guide you when you are buying a boat for the first time.
How to get boat insurance with Progressive
Online
We'll ask easy questions about you and your boat, then you can choose coverages.
Get a boat insurance quote online
Call a rep
You'll speak with a licensed representative who will guide you through everything.
Call 1-866-749-7436
Through an agent
If you want local advice, we'll connect you with a licensed independent agent near you.
Find an agent online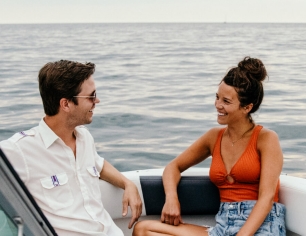 Enjoy life on the water with boat insurance from Progressive