Insurance for classic and vintage boats
Insurance for older boats has different considerations and features than standard boat insurance. For example, some classic boat insurers may require limiting the amount of time you use your classic boat. Classic boat insurers may also offer boat restoration coverage, which keeps your boat protected while it's being repaired or restored. Some vintage boat insurance providers may also provide references to specific repair shops that specialize in repairing classic vessels.
3 min to read
How are boats classified?
According to the Antique and Classic Boat Society, there are five main classifications of boats based on age.
Historic: Any vessel constructed before and up to 1918.
Antique: Any boat built between 1919 and 1942.
Classic: A boat built between 1943 and 1975.
Late classic: A boat ranging from 1976 to 25 years prior to the current year — from 2021, that would be 1996.
Contemporary: A boat built within the past 25 years.
At one time, a boat's classification also depended on the hull's material, but that's no longer the case. Even aluminum and fiberglass boats can now be considered "late classics" or "classics." Since coverage options can vary based on your boat's classification, you should check with your insurer to determine your vessel's status.
How does classic boat insurance differ from a standard policy?
With classic boat insurance, your provider may require you to limit how often you take your boat out on the water during boating season. This reduces the chance of damaging your boat and also allows your insurer to keep rates lower. With standard boat insurance, there are generally no limits on how often you can use your boat, though you may be required to stay within a certain number of miles off the coast if you're using it on the ocean. If you own a vintage boat and use it regularly or take it to boat shows, make sure your insurance doesn't include a specific "lay up" period where the boat must remain unused.
Another difference between a standard policy and classic boat insurance is how boat restorations are covered. With a standard boat policy, your vessel may not be covered for things like fire or theft while it's being repaired. But since classic boats are typically expensive to restore and repair, many classic boat insurers offer restoration coverage to protect your vessel while it's being worked on. Some vintage boat insurers also offer referrals to expert repair services from specialized shops.
Are insurance rates higher for vintage and classic boats?
If damaged, classic boats sometimes require more care and expert restoration — but that doesn't necessarily mean you'll pay more for insurance. Unless the boat is a rare collectible classic, it may cost less than a newer boat, so you may not need as much coverage. However, rates can vary depending on your vessel's age and whether your boat is classified as modern, classic, or antique.
How to get classic boat insurance
Classic boat insurance is typically offered by specialty insurance companies, meaning they focus on or have expertise in insuring classic and antique boats. To insure your classic, get a quote from a specialty insurer and make sure your policy includes the coverage you need for peace of mind.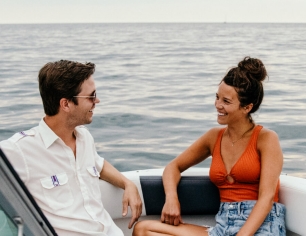 Enjoy life on the water with boat insurance from Progressive