How much is boat insurance?
In 2022, the average annual cost of a boat insurance policy at Progressive ranged from $255 in Minnesota to $753 in Florida.* Boat insurance rates are impacted by many factors including age, boat type, boating history, coverages, and location.
4 min to read
Average cost of Progressive boat insurance by state
Low-cost states
Annual policy average: $277**
States included: Arkansas, Illinois, Indiana, Iowa, Kansas, Maine, Minnesota, Missouri, Montana, Nebraska, New Hampshire, Ohio, Pennsylvania, South Dakota, Utah, Vermont, and Wisconsin.
Medium-cost states
Annual policy average: $368**
States included: Arizona, California, Colorado, Georgia, Idaho, Kentucky, Michigan, New Mexico, North Carolina, North Dakota, Oklahoma, Oregon, Tennessee, Virginia, Washington, West Virginia, and Wyoming.
High-cost states
Annual policy average: $584**
States included: Alabama, Alaska, Connecticut, Delaware, Florida, Hawaii, Louisiana, Maryland, Massachusetts, Mississippi, Nevada, New Jersey, New York, South Carolina, Rhode Island, and Texas.
Learn more about boat insurance requirements by state.
Why are northern states typically less expensive than southern states?
Boat insurance rates are generally more affordable if you live in a state with no coastline, and many coastal states are in the southern part of the United States. Along the coast, you'll usually find bigger and more expensive boats used in the oceans and on the Gulf of Mexico. The Great Lakes states tend to fall in the low-cost category because boat lengths tend to be smaller, with many boaters taking advantage of inland lakes and rivers. The length of the boating season also has a big impact on the cost of boat insurance.
Many northern states have shorter boating seasons and lower policy costs than southern states where the boating season is generally much longer.
What other factors affect your boat insurance cost?
Besides where you live, several factors play into boat insurance rates, including:
Safety measures: Completing a boating safety course may lower your rate.

Boat's horsepower: Boats with stronger engines, like powerboats, often have higher rates.

Boat's age: Newer boats are often more expensive to insure than older boats.

Boating history: More experienced boaters may receive lower insurance rates than newer boaters with less experience on the water.
You may be able to lower the cost of boat insurance by qualifying for discounts, including multi-policy, multi-boat, and responsible driver. Learn more about boat insurance discounts at Progressive.
About our data
This data shows the average boat insurance rate from Progressive for a watercraft policy in 2022. Keep checking back for updates to this page. When researching average boat insurance costs, it's essential to pay attention to the source of the data and the year. Rates are always changing and any data that's several years old may no longer be relevant.
Data for Washington D.C. is not included.
While this data provides insight into the average cost of boat insurance, it isn't customized to your situation. With so many variables affecting boat insurance, you'll want to get a boat insurance quote. online or by calling us at 1-866-749-7436.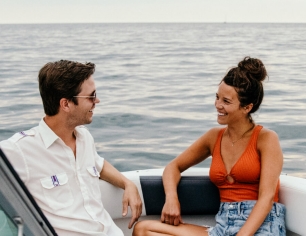 Enjoy life on the water with boat insurance from Progressive