What is boat insurance?
Boat insurance protects you financially from injuries or damage you cause to others while boating. Insurance can also cover your watercraft and trailer if it gets stolen or physically damaged. You can select and purchase additional coverages, such as uninsured/underinsured boater (UB) coverage, to give you more protection on the water.
3 min to read
Is boat insurance required?
If you live in Arkansas or Utah, which both require boat insurance, the answer is yes for most types of boats. You may also need boat insurance if you're financing your watercraft, and marinas typically require it if you're docking at their facility. Even if boat insurance isn't legally required, it's still valuable to protect your investment with insurance, which helps pay for not only damages to your boat, but any damages or injuries you cause to others as well. Learn more about boat insurance requirements by state.
How does boat insurance work?
Boat insurance works the same way as car insurance does. If you damage your boat or cause injuries or damages to someone else, you file a claim with your insurer asking them to pay for the damages. If the incident is covered, your insurer pays for the losses or injuries up to your coverage limits.
Important note: One of the biggest myths about boat insurance is that you don't need it because you're adequately covered under your homeowners insurance policy. While your home's insurance policy may provide some protection for a smaller boat while it's on your property, it won't offer the coverage you need on the water. Learn more about what boat insurance covers.
FAQs about boat insurance
Do you need insurance for a boat trailer?
With Progressive, damage to your trailer is automatically covered when you add the trailer to your boat policy. In some cases, your homeowners insurance will cover repairs to your boat trailer if it's damaged while on your property. Learn more about boat trailer insurance.
Do I need boat insurance when it's in storage?
Keeping your boat insured is a good idea, especially with comprehensive coverage. Your boat insurance will still cover theft, hail damage, and other hazards while it's stored. Plus, you won't have to worry about reactivating your policy once you're ready to get back out on the water. However, some insurers will allow you to drop some coverages if you'd prefer.
For example, Progressive lets you adjust certain coverages while you're not using your boat. Learn more about comprehensive and collision coverage for boats.
How is boat insurance priced?
Pricing all comes down to risk. In other words, how likely are you to have a boat accident, and what will it cost? Learn more about the factors that influence the cost of boat insurance, including your claims history, the type of boat that you own, and your boat experience.
How to get boat insurance
Online
We'll ask easy questions about you and your boat, then you can choose coverages.
Get a boat insurance quote online
Call a rep
You'll speak with a licensed representative who will guide you through everything.
Call 1-866-749-7436
Through an agent
If you want local advice, we'll connect you with a licensed independent agent near you.
Find an agent online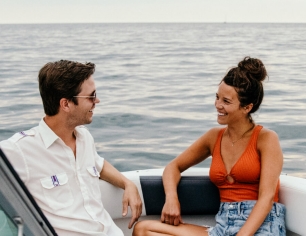 Enjoy life on the water with boat insurance from Progressive