Does boat insurance provide liability coverage?
Boat insurance policies offer liability coverage, which can pay for damages or injuries you're liable for while boating, up to specified limits, and lawsuit costs if you're sued. This includes damage you cause to another watercraft or if someone on or near your boat is injured and you're found to be legally responsible.
3 min to read
Do I need liability coverage if I own a boat?
Boat insurance is required in only two states: Arkansas and Utah. While you can hit the water without liability coverage in 48 states, it's generally inexpensive and can provide financial protection if you're found legally responsible for personal injuries or property damages. Typical scenarios involving a liability claim might include:
Impact with a dock or pier
Crash with another boat
Collision with a swimmer or water skier
An injury to a passenger on your boat
How much liability insurance do I need for my boat?
Like auto liability coverage, you can select from a range of watercraft liability coverage limits. Although it won't cover your own boat, carrying the right amount of liability coverage can be critical for boaters if they're liable for damages to another boat or injuries to another boater. Select the liability coverage limit that best covers your net worth, which you can figure out by adding up the value of your savings and investment accounts plus the equity you have in your home, vehicle, boat, and other assets.
As your liability limit increases, so will the cost for boat liability insurance coverage. However, the difference in price between the minimum liability limit and $100,000 in coverage is often minimal.
How does liability coverage protect boat owners?
Having the proper coverage while boating can safeguard your assets in case you're financially responsible for someone else's damages or injuries. Liability coverage on your boat policy is comprised of the following:
Bodily injury liability
Bodily injury liability coverage can cover the costs associated with any injuries to others as the result of an accident where you're at fault, including an injury to a water skier or someone swimming near your boat or watercraft. Coverage typically extends to expenses such as medical bills, rehabilitation, and hospital stays.
Property damage liability
It only takes seconds of distracted boating to make contact with another boat, watercraft or structure. With property damage liability coverage, your insurer may pay the damages to another person's dock, boat, or property, up to your coverage limits.
Medical payments coverage for boat insurance
Medical payments coverage can pay for injuries sustained in a boating accident, regardless of who's at fault. For instance, if your family member slips on the floor of your watercraft and breaks their arm, medical payments can pay their hospital bill, up to your coverage limits. You can typically select a policy limit for medical payments coverage of $1,000 up to $25,000, depending on your carrier.
Does my homeowners policy cover boat liability insurance?
Your home insurance policy may provide limited liability coverage for damages and injuries you cause while boating in certain circumstances, but you should have a separate boat insurance policy to safeguard against liability claims stemming from boat usage and/or ownership.
Get bodily injury and property damage liability coverage for boaters
Online
We'll ask easy questions about you and your boat, then you can choose coverages.
Get a boat insurance quote online
Call a rep
You'll speak with a licensed representative who will guide you through everything.
Call 1-866-749-7436
Through an agent
If you want local advice, we'll connect you with a licensed independent agent near you.
Find an agent online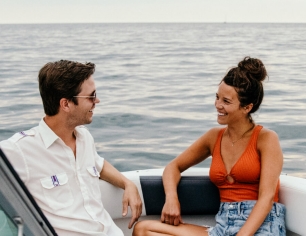 Enjoy life on the water with boat insurance from Progressive