Do I need a survey for boat insurance?
Before you can insure a boat of a certain age, length, or value, some boat insurance companies require a marine survey. You typically won't need one if you're insuring a new watercraft, but many insurers won't cover used boats that haven't been surveyed. When quoting insurance for a new or used boat, ask the insurer if a marine survey is required for your watercraft.
2 min to read
What is done during a marine survey?
A marine survey is a detailed inspection of your boat's exterior and interior mechanical components. As the surveyor inspects the boat, they'll note any potential issues and present you with documentation that lists the current condition and seaworthiness of the vessel, as well as a value estimate.
How long does a marine survey take?
The length of time it takes to complete a marine survey varies based on several potential factors, such as:
Size of boat
Type of survey
Age of vessel
Prior preparation
Extended testing (haul-out and sea trial)
It could take a full day if you're planning on having an in-depth condition and value survey conducted for your vessel. If a survey is required by your insurer, speak with your surveyor beforehand to establish a realistic timeline for your survey.
How is a marine survey used for boat insurance?
A marine survey may help uncover any underlying issues with your boat and determine what upgrades are needed to get the vessel into a safe operating condition. The survey can also establish the current value of your boat. This information can be especially helpful for used boats that may have more operating issues than new boats.
Progressive makes it easy to obtain boat insurance because you can get a policy without a survey, even for used boats.
How much does a marine survey cost?
Most surveyors charge a fee based on the boat's size rather than an hourly or flat rate. If you also want to have mechanical, electric, engine, or oil testing done, mention this to the marine surveyor upfront as these may cost extra.
Can I do my own marine survey?
If a survey is required, insurance companies usually require the survey to be conducted by an accredited or licensed professional..
Get boat insurance without a survey.
Online
We'll ask easy questions about you and your boat, then you can choose coverages.
Get a boat insurance quote online
Call a rep
You'll speak with a licensed representative who will guide you through everything.
Call 1-866-749-7436
Through an agent
If you want local advice, we'll connect you with a licensed independent agent near you.
Find an agent online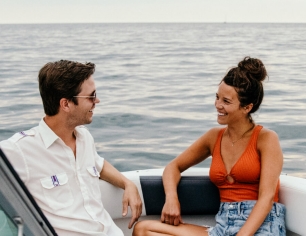 Enjoy life on the water with boat insurance from Progressive