Boat insurance requirements by state
Each state has its own requirements for boat insurance. Select your state below to learn more about what coverage the law mandates, what optional coverages you could benefit from, how to save on your rate, and more.
2 min to read
Liability requirements for boat insurance coverage by state
The following coverages are the basis of all Progressive boat policies:
Property damage liability coverage may pay for damages to another boat, marina, or dock if your boat caused the damage. It may cover legal fees related to the incident as well.
Bodily injury liability coverage may help with medical and legal expenses if someone on your boat, on another boat, or in the water is injured.
Wreckage removal coverage may pay for the removal of your boat from the water in the event it sinks and you are legally required to remove it.
Fuel spill covers legally required clean-up costs associated with spilled fuel, no matter how it happened.
Watersport coverage helps pay for medical costs associated with accidents involved in on-the-water sports such as water-tubing, water-skiing, etc.
Optional boat insurance coverages include boat comprehensive and collision coverage, Propulsion Plus® mechanical breakdown and Sign & Glide® towing assistance.
What states require boat insurance?
Only two states – Arkansas and Utah – require boat insurance for most boats. However, many marinas require proof of boat insurance if you want to dock your boat there, and if you're financing your boat, your lender will likely require you to carry comprehensive and collision coverage in addition to a basic boat liability insurance policy. It's always best to check with your specific state to ensure you're adhering to the laws governing the waterways you'll be frequenting.
How to get boat insurance in your state
Online
We'll ask easy questions about you and your boat, then you can choose coverages.
Get a boat insurance quote online
Call a rep
You'll speak with a licensed representative who will guide you through everything.
Call 1-866-749-7436
Through an agent
If you want local advice, we'll connect you with a licensed independent agent near you.
Find an agent online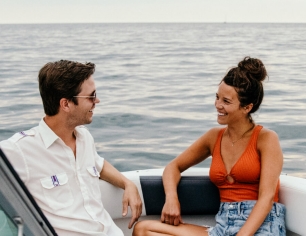 Enjoy life on the water with boat insurance from Progressive