Is boat insurance required in Texas?
Texas law does not require boaters to carry a boat insurance policy, but your lender may require boat insurance if you finance your watercraft. A Texas boat insurance policy can help protect you against unexpected losses from on-the-water accidents and incidents like vandalism, fire, and theft. Progressive strives to provide the best boat insurance in Texas at affordable rates, with plenty of discounts to help you save.
4 min to read
What's included in a standard Progressive Texas boat insurance policy?
Property damage liability coverage might pay for damages to another boat, marina, or dock if your boat caused the damage. It may cover legal fees related to the incident as well. Bodily injury liability coverage can help with medical expenses if you are responsible for injuries to other boaters or to someone on your boat (who's not a member of your immediate household). Regarding coverage limits, choose a limit that can best protect you and your assets.
A Progressive umbrella policy can offer extra protection up to $5 million if you need more than the maximum $500,000 liability limit on a typical boat insurance policy. Learn more about boat liability coverages.
Fuel spill covers the legally required clean-up costs associated with spilled fuel, no matter how it happened.
Watersports coverage helps pay for medical costs associated with accidents involved in on-the-water sports such as water-tubing, water-skiing, etc.
Wreckage removal coverage may pay for removing your boat from the water in the event it sinks.
Optional Progressive boat coverages
Collision and comprehensive coverages are likely to be required by your lender if you're financing your boat. Collision coverage protects your watercraft from accidents involving other boaters and objects such as buoys and docks. Comprehensive coverage covers the cost to replace or repair your boat for events outside of your control, such as fire, theft, and vandalism. This type of coverage may also be helpful if you tend to store your boat during the long winter months when your boat is not in use. Learn more about comprehensive and collision coverage for boats.
Propulsion Plus® mechanical breakdown coverage can help if the lower unit of an outboard motor or the upper and lower units of an inboard/outboard motor suffer a mechanical breakdown — even if it's from wear and tear.
Sign & Glide®: Sign & Glide® towing assistance† will help if your boat is stuck in the water with on-water towing, jump starts, fuel delivery,†† and more.
See all Progressive boat insurance coverages.
Does Progressive insure yachts?
With access to the Gulf of Mexico, Texas is an attractive location for yachts plying the waterways. If you're a boater in the state of Texas with a yacht more than 26 feet, Progressive may be able to help you get the insurance you need.
How much is boat insurance in Texas?
Texas tends to be a high-cost state when it comes to Progressive boat insurance rates. In addition to the type of coverage you opt for, many factors decide the cost of boat insurance, including:
Boating experience: More experienced boaters may pay less for boat insurance than newer boaters.
Make, model, and year of the boat: Insuring larger, older, or more expensive boats often leads to a higher premium.
Claims history: This may include both at-fault and not-at-fault claims.
Learn more about factors that impact boat insurance cost.
Pro tip:
You automatically receive Full Replacement Cost coverage with Progressive if you carry comprehensive and collision coverage on your boat insurance policy. That means that in the event of a partial loss, we'll pay to make sure your boat or personal watercraft is returned to pre-accident condition without factoring in depreciation.
How can I lower my boat insurance rate in Texas?
Discounts vary by state, but you may qualify for the following Progressive discounts:
Original owner: You're the original owner; you're entitled to a discount on your boat insurance policy.
Multi-boat discount: If you insure more than one watercraft on your Progressive boat policy, you'll earn a discount.
Safety course: Complete a Texas-approved safety course and earn a discount.
Multi-policy discount: If you have another policy with Progressive, you get a discount.
See if you qualify for more Progressive boat insurance discounts.
How to get boat insurance in Texas
Go online
Answer a few simple questions, then customize your coverages.
Get a boat insurance quote online
Call a rep
Speak with a licensed representative who can guide you through everything.
Call 1-855-347-3939
Ask an agent
Connect with a licensed, independent agent near you.
Find an agent online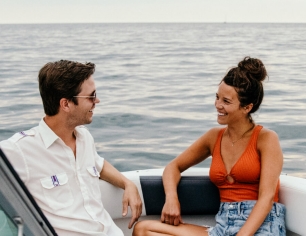 Enjoy life on the water with boat insurance from Progressive