What is a personal watercraft?
A personal watercraft (PWC) is a small boat propelled by an inboard water jet engine. Riders sit or stand on the vessel rather than inside it. Because a small number of brands dominate the market, people often refer to these vessels by brand names rather than as "personal watercraft."
3 min to read
What are the different types of personal watercraft?
Stand-up
Personal watercraft were originally popularized with stand-up models. Some manufacturers still make this style because of its agility and athletic riding style. Manufacturers may not list this as a separate category in their catalog but instead offer stand-up options in their other types of vessels.
Performance
As the fastest, most powerful style of PWC, these are intended for racing and experienced riders looking to get the most out of their vessel. Stand-up PWCs are often found in this category because they appeal to more athletic riders.
Recreation
The most popular category thanks to their approachability, power, and storage is recreational PWCs. These are good boats for families, beginners, and casual riders. Most rental PWCs are in this category because they're easy for beginners to get the hang of but still powerful enough to feel thrilling.
Rec-lite
Budget models comparable to recreation PWCs but with less powerful engines and lighter weight. They don't have as many features and may be less stable than their recreation-class cousins but can be a good entry point for curious buyers shopping for a first boat who aren't ready to commit to the cost of a full recreation model. Learn about the buying a boat for the first time and the best first boats to buy.
Other types of personal watercraft
Many manufacturers make more specialized or upgraded PWCs for specific use. Some of the most common are:
Luxury/Touring: Bigger PWCs with more powerful engines and increased storage and range make them a better fit for long trips and different water conditions.

Tow Sports: Some manufacturers make PWCs specifically designed for tow sports like wakeboarding.

Sport Fishing: Another specialized type of PWC can include features you'd find on a bass boat or other fishing boats, such as livewells for catch-and-release fishing and fishfinders.
What are the different personal watercraft brands?
The personal watercraft market is dominated almost exclusively by three major brands: Kawasaki (Jet Ski), Yamaha (WaveRunner), and Bombardier (Sea-Doo).
Jet Ski vs. WaveRunner vs. Sea-Doo
All three manufacturers have product lines and histories that include other power sports offerings like motorcycles and ATVs. Kawasaki and Yamaha are Japanese companies, while Sea-Doo's base of operations is in Canada.
Kawasaki has a smaller catalog of models than the other two brands (e.g., eight models in the 2022 model year compared to Yamaha's 20 and Sea-Doo's 14). Kawasaki doesn't divide its products into categories, so you might want to know what features and performance specs you want before looking.
Other manufacturers include Polaris, Arctic Cat, and Honda. As in the automotive industry, some manufacturers have begun making all-electric vehicles. There are now electric PWCs from brands like Narke and Taiga if you're looking for a more environmentally friendly option when buying a jet ski or personal watercraft.
Do I need to insure my PWC?
The United States Coast Guard defines personal watercraft as vessels, so they must follow federal and state safety and boat insurance and personal watercraft insurance regulations. Some states require boat insurance, and the Coast Guard requires some amount of boating safety equipment for all vessels. Check your state's boat insurance requirements and boating laws to learn more.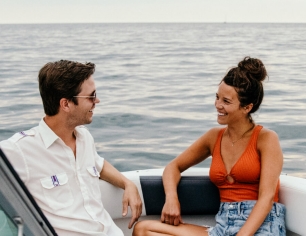 Enjoy life on the water with boat insurance from Progressive