A guide for buying a boat for the first time
Buying a new boat can be broken down into steps. The first is research – understanding your needs and budget, and shopping for the best loan rate if you're financing the purchase. Then you'll shop for the boat itself. Consider taking a couple you're most interested in for a test drive (called a "sea trial," even if it's on a lake). Finally, you'll buy the boat, pay registration and taxes, and decide if you want to get insurance protection.
3 min to read
How to buy a boat for the first time
You can separate the process of buying a boat into three categories: research, shopping, and purchasing.
Do your research
With so many options, the best way to buy a boat is to narrow your search to manageable choices. Think about how you will use the boat, including your activities, how many passengers you'll have, and your storage needs, as you research your boat.
Consider how you might use a boat to help narrow your options. Leisurely fishing on a lake or pond lends itself to one kind of boat. Wakeboarding lends itself to another type entirely. If you plan to keep the boat for several years, think about how many passengers you will have in your boat. Making a choice can be a balancing act between how comfortable your passengers will be vs. how much baggage or cargo you may carry.
Consider where you will store the boat when it's not in use. If you plan to keep your boat on a trailer and drive it around to multiple bodies of water, you may lean toward a smaller boat. One other thing to consider is the type of boat engine. If you're a first-time buyer, you may not be familiar with the differences between inboard and outboard engines, pod drive, and sterndrive engines. Knowing how you'll use the boat will help you narrow down the engine options when you shop, and test drive the boats.
Learn more about the best boat for first-time buyers, the best time of year to buy a boat, and the best boats for families.
Determine your budget and payment options
If you don't have the cash on hand to buy your dream boat outright, you have a few different financing options. They'll depend on whether you buy from a dealer or a private party. Consider consulting with a tax professional if you explore these options.
Dealer loan: A boat dealership will offer new and used boat loans like a car dealership. You may be able to get a better rate elsewhere.
Marine lender: There are finance companies that specialize in boat loans. You can compare rates and get preapproved when buying from a dealer.
Home equity: You'd be paying with the funds from a refinance with cash out, a second mortgage, a home equity loan, or a home equity line of credit.
Find boats for sale
Once you've narrowed your choices and budget, it's time to check out some boats. You have a few boat buying options from which to choose. Some of these options will give you more peace of mind about the purchase than others because you'll be able to conduct a sea trial (the boating equivalent of a test drive) first.
Boat dealership: Visit a boat dealership to see different makes and models.
Boat show: Manufacturers and dealers are there to show off new boats and, more importantly, to sell them. If you're serious about buying a boat at a boat show, know that the availability of sea trials may be limited.
Online services: You can buy new and used boats through online services from boat dealers and private parties. A sea trial with a specific boat may be hard to come by when you buy online, so proceed cautiously.
Boat manufacturer: Most large boat manufacturers sell their new boats through dealerships. Boats from smaller companies may not be as widely available.
From a private party: You can find good bargains, but it's essential to be cautious.
Get a marine survey
A marine survey is an inspection of the quality of the boat and an opportunity to identify any issues before purchase. A marine survey isn't usually necessary when considering buying a new boat. For used boats, it may be a requirement.
Negotiate the price and make your offer to buy a boat
You've found the perfect boat. Now it's time to close the deal and handle the paperwork. You can negotiate the price of a boat if you're buying at a dealership, a boat show, or in person from a private party. You'll want to learn about the cost of boat insurance, so you can keep it in mind when calculating the cost of owning a boat. Consider your timing and be prepared to walk away. It's difficult to do, especially when you've spent time and feel emotionally invested.
Finalize your new boat purchase
Consider whether you need or want boat insurance. Only a few states mandate boat insurance, but if you're financing your boat through the dealership or a marine lender, it'll likely be required. If you dock it at a marina, they may also want proof of insurance. Learn more about how boat insurance works.
If you're buying a boat from a dealership, they will help you get all the paperwork sorted and fees paid. Whether you're buying from a dealership or a private party, you may need to obtain title to the boat and register the boat, depending on your state and the size and type of your boat.
Check with your state to learn how to register your boat. It may be through the Department of Motor Vehicles (DMV) or a department that focuses on outdoor recreation (e.g., the Department of Fish and Game). When buying a used boat from a private party, you'll want to make sure that it's their boat to sell and that there are no liens (debts) against the boat. Details vary by state, but vessels over a certain length may require a boat title. Under the mandated size, a bill of sale may serve as proof of ownership. Learn more about what you need to operate a boat.
Just bought a boat? Insure it with Progressive
Online
We'll ask easy questions about you and your boat, then you can choose coverages.
Get a boat insurance quote online
Call a rep
You'll speak with a licensed representative who will guide you through everything.
Call 1-866-749-7436
Through an agent
If you want local advice, we'll connect you with a licensed independent agent near you.
Find an agent online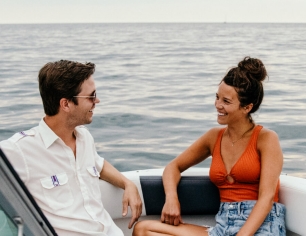 Enjoy life on the water with boat insurance from Progressive