What is boat comprehensive and collision insurance?
Also known as marine hull insurance, comprehensive and collision coverage may pay to repair or replace your boat if it's physically damaged in a covered incident, up to your policy's limits and after you pay your deductible. Although they are often referred to as "insurance," comprehensive and collision are actually coverages that are added to a boat insurance policy, not separate types of insurance.
2 min to read
What does boat comprehensive and collision insurance cover?
While bodily injury and property damage (BI/PD) provide coverage for injuries to someone else or damage to someone else's property, comprehensive and collision provide coverage just for your watercraft. Comprehensive boat insurance protects your watercraft from unexpected events outside of your control like vandalism, theft, or severe weather, while collision insurance covers your watercraft in the event of collisions with another boat or object, like a dock.
Are boat comprehensive and collision coverage required?
Comprehensive and collision coverage are not required by state law, but it's generally required by lenders if you're financing your boat or keeping it at a marina. If you own your boat outright, both coverages are considered optional.
Should I add these coverages to my policy?
If you own your boat, the decision to add comprehensive and collision insurance coverage will come down to the actual cash value of your boat, your personal preferences, and your financial situation. If your boat has a low cash value, for example, if may not be worthwhile to add comprehensive and collision coverage, but if you cannot pay to repair or replace your boat out of pocket, then it may be valuable.
Pro tip:
Comprehensive boat coverage may be beneficial if you live in an area prone to hurricanes, storm surges, or winter blizzards because your boat could have a higher risk of unforeseen physical damage.
Is hull insurance different than comprehensive and collision coverage?
While shopping for boat insurance, you might also come across something called hull insurance. Hull insurance is another term for comprehensive and collision coverage, also known as physical damage coverage. The general term can apply to watercraft or aviation, but the term marine hull insurance specifically refers to boats and other watercraft.
At Progressive, we sell comprehensive and collision coverage together so your boat is protected against damage.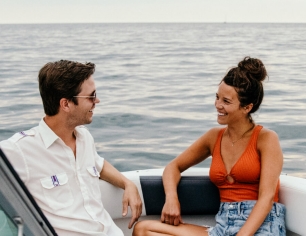 Enjoy life on the water with boat insurance from Progressive