How to get a title for a boat
Before obtaining a title, you'll need to prove ownership. You can do this with a Bill of Sale, which you then will take to the relevant authority in your state. In some cases, this will be the Department of Motor Vehicles, while in other states, you may need to visit Game and Wildlife Services.
3 min to read
How to get a title for a boat that doesn't have one
If you have a boat that does not yet have a title, you'll first need to contact the Department of Motor Vehicles to prove ownership. This can mean showing a loan payoff for the motorized boat through the company you purchased it from or a Bill of Sale through a private party. Keep in mind that if you're financing your boat, your lender will likely hold on to the boat's title/proof of ownership until the loan re-payment is complete.
Do all types of boats require a title and registration?
Check your state's requirements, as titling will vary by state. Generally, motorized vessels or ones that are longer than a certain length will need to be titled. Check your state's requirements.
The larger a vessel, the higher the registration fee tends to be, but some boats don't need to be registered at all. Small, personal watercraft that you can transport on the top of your car generally don't need to be registered, including canoes, kayaks, stand-up paddleboards, etc.
Learn more about how to register your boat and insurance for personal watercrafts.
How to transfer a boat title
Just like the registration process, the steps you need to take to transfer the boat title from one person to another will differ from state to state. However, most states have similar requirements. The seller will need to fill out the transfer information on the back of the title and sign it. In some states, this step must be notarized. Be sure to find out whether your state requires a notarized title transfer before you start the process.
After you transfer the boat title, you'll need to fill out an application for a title at the relevant government agency and pay any necessary fees that come with transferring the title. You may also need to pay sales tax to the state if you're buying the boat from a private seller. Check with your DMV or the boating department of your state to guarantee you have completed all necessary steps.
Do I need a boat title?
A boat that meets specific requirements must have a title – but not all boats require titles. A small paddle boat or dingy likely doesn't need to be registered, but a motorized vessel will generally need a title. Even if your state doesn't require it, it's a good idea to title any vessel that your state allows.
Insure your new boat with Progressive
Online
We'll ask easy questions about you and your boat, then you can choose coverages.
Get a boat insurance quote online
Call a rep
You'll speak with a licensed representative who will guide you through everything.
Call 1-866-749-7436
Through an agent
If you want local advice, we'll connect you with a licensed independent agent near you.
Find an agent online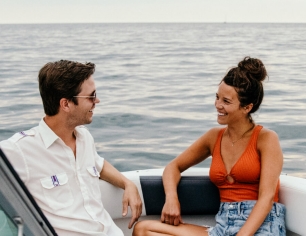 Enjoy life on the water with boat insurance from Progressive