What is a Hull Identification Number?
A Hull Identification Number, or a HIN , is a serial identification number for your watercraft. Similar to a Vehicle Identification Number, or VIN, a HIN provides unique information about your boat, including the make, model year and date of manufacture.
2 min to read
What is a Hull ID Number's meaning?
The Hull Identification Number makes it easy to look up a boat's history by hull number. It's a piece of information you'll need to provide in order to register your boat with your state department of motor vehicles, along with your boat title. The first three letters of the HIN indicate the make of the boat. This Manufacturer Identification Code (MIC) is dictated by the U.S. Coast Guard.
The next six character are the boat's unique serial number which may contain a combination of numbers and letters. Some letters, such as "I," "O," and "Q" are omitted because of their similarity to other letters and numbers, making it more difficult to read the HIN. The next letter indicates the month of manufacture, then the year of certification, and finally the boat's model year.
Where is the Hull Identification Number located on a boat?
The HIN must be at least 1/4 inch in size and permanently affixed to the boat. Most HINs are found on the upper right of the boat's transom. However, the Hull Identification Number location may vary depending on the type of boat you have. If your boat has a transom, you'll find the primary HIN on the upper right side of the transom.
For boats without a transom, the HIN is typically found near the starboard outboard side, within a foot of the stern or two inches on the top of the hull side. Most boats also have a secondary HIN located on an unexposed location so that it's accessible in the event the primary HIN plate goes missing.
Pro tip:
Did you know that you can register homemade boats? While they won't have a manufacture-issued HIN, your state's watercraft office may be able to get it registered after an inspection.
Do I need a Hull Identification Number plate?
Starting in 1972, all boats manufactured in the United States were required to display the 12-digit identification number as part of the Federal Boat Safety Act. If your boat was manufactured prior to 1972, your boat likely does not have a Hull Identification Number plate provided by the manufacturer. Check with your state's department of motor vehicles to determine if your boat will need any special type of registration in order to stay legal while out on the water.
Quote your boat
Progressive can help you get customized boat protection no matter what kind of boat you have. Learn more about Progressive boat insurance coverages for all types of boats, get a boat insurance quote online, then set sail with peace of mind.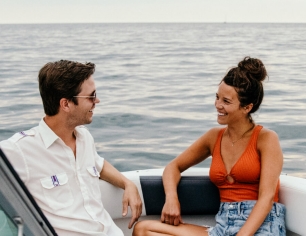 Enjoy life on the water with boat insurance from Progressive