What to look for when buying a used boat
There are several things to look for when buying a used boat. Determine what type and size of boat will best suit your lifestyle and budget, inspect the boat's condition, and consider your repair skills when you're deciding which watercraft to purchase and whether it's a good deal.
5 min to read
Tips for buying a used boat
Here are some important tips when buying a used boat.
Set a budget

Figure out how much you can spend on a boat before you start looking. Consider the cost of boat insurance, necessary repairs, delivery, trailer costs, and slip fees. Additional considerations include registration licenses and incidental equipment such as life jackets. Regular maintenance and repair costs typically add to the ongoing expenses. Marine Depot reports that annual maintenance on a used boat is roughly 10% of the purchase price. Make sure your budget can cover all those things, or you may end up with a boat in storage that you can't afford to take on the water.

Understand your boating needs

You have many options for different types of boats, ranging from sailboats, powerboats, and fishing boats. Determining the type of watercraft you desire is a decisive first step in becoming a boater.

Decide what kind of boatowner you are

Will you enjoy doing the maintenance and repair work that a boat requires? Or would you rather pay someone else to do the repairs? If you are hands-on, be realistic about your knowledge and abilities. Knowing what kind of work you're interested in and capable of performing can help you find the right used boat for your budget.

Get a marine survey

Once you develop a short list of vessels, get a marine survey, which is a detailed boat inspection. Professional marine surveyors are your best bet for ensuring you don't encounter unexpected problems. According to Off the Hook Yachts, a boat survey can run between $18-25 per foot, typically including an out-of-water check, a sea trial a system test, and a comprehensive survey report. The surveyor can give useful information about the boat's value and condition and can even perform a sea trial (like a car test drive) to tell you if everything is in working order and what might need repairs soon.

Beware of red flags

Before you buy a used boat and hire the marine surveyor, keep an eye out for these issues:

Check the bellows: Inspect the accordion-like rubber component that protects control cables from damage, along with other sensitive parts.
Look for cracks in the hull: If you find that someone has repaired cracks, it could mean the boat was in a crash. Damage to the hull can quickly compromise the boat's seaworthiness.
Check the engine and steering: Get the owner to start the engine and run it while listening for unusual noises and looking for smoke. Check that the steering unit responds to the wheel.

Negotiate on purchase price

With a thorough understanding of the boat's condition, you can begin the negotiation phase confidently. Effective negotiation requires knowledge of comparable boat prices and understanding of the market. Buying a used boat is like buying other used vehicles. You'll typically have some room to negotiate (more if you buy from a private party than from a dealer). Don't despair if you fall in love with a vessel and the marine survey reveals some hidden problems. You can use that knowledge to negotiate a lower price. Learn more about negotiating a boat price.

Protect your investment

Once you've purchased a boat, consider boat insurance, warranties, and service contracts, which can offer additional peace of mind, particularly for first-time boat buyers, and potentially provide coverage for unforeseen accidents, repairs, and replacements. Learn more about how boat insurance works and what boat insurance covers.
What are the advantages of buying a used boat?
Buying a used boat sometimes means getting a larger vessel or more features for less money. Used boats often:
Cost less to buy and insure
May already be on the water or include a trailer
Have a history you can verify
Have a proven track record of quality
What are the disadvantages of buying a used boat?
The downsides of buying used instead of new may include:
Higher maintenance costs
More maintenance or repairs
Limited selection
No warranty coverage
Learn more about choosing the best boat for your family and your lifestyle.
Understand common boat repairs and their cost
In most cases, labor is the most significant variable in determining cost. Some problems, like mildew growth, are relatively easy to repair when you own a used boat. Other challenges, such as electrical work or engine repair, require significant technical expertise. You may face serious consequences later if the work isn't performed correctly.
Talk to repair shops in your area to understand their rates. If you're considering performing work yourself, consider whether you have the tools.
How to insure your boat with Progressive
Online
We'll ask easy questions about you and your boat, then you can choose coverages.
Get a boat insurance quote online
Call a rep
You'll speak with a licensed representative who will guide you through everything.
Call 1-866-749-7436
Through an agent
If you want local advice, we'll connect you with a licensed independent agent near you.
Find an agent online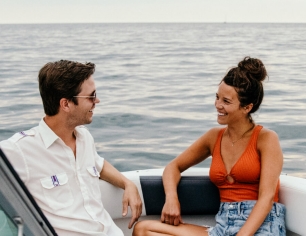 Enjoy life on the water with boat insurance from Progressive