How to negotiate a new boat price
Whether you're dealing with a dealership or a private seller, there's often room for negotiation when buying a used boat. In the case of a new boat, terms may seem less negotiable. But you can lower the price by avoiding extra features, warranties, and prepaid maintenance plans, which can drastically increase costs. Even if you're eager to get out on the water, don't rush and spend more than you need to.
3 min to read
What factors should you consider when negotiating a new boat price?
Many factors impact the price when you buy a boat. If you're buying a new boat from a dealer, the price is based on the manufacturer's suggested retail price. Additional factors include features, add-ons, warranties, and prepaid maintenance services.
The following factors can influence how you negotiate a new boat purchase:
Whether you're financing the purchase

Whether you're paying all at once

Whether the price includes add-ons like a trailer or any other accessories

Whether the seller delivers the boat
Understanding these elements can help you get the best deal when negotiating boat price. Learn more about the best first boats to buy and buying a boat for the first time.
What factors should you consider when negotiating used boat price?
If you're buying a used boat , the price will likely be based on what the seller paid, the age and condition, upgrades, maintenance or deferred maintenance, and the value of any accessories included in the sale. To negotiate effectively, familiarize yourself with the contributing factors to the boat's price.
Tips to negotiating a boat price
Know your budget
Before you shop for a boat, you should know how much you can afford to spend. Having a clear idea of your budget is the first step in negotiating. Being firm on your budget gives you a maximum limit, and it'll keep you from overspending, giving you a firm stance while you're haggling the numbers.
Research offers
It's good to know whether similar boats are for sale in the same area and their respective prices. Knowing comparable prices tells you the value of a particular type of boat in your area and how many people are trying to sell boats at a given time. You can use this information to negotiate a lower price if the seller thinks they may lose your business.
Offer cash
When considering how to make an offer on a boat, most sellers prefer to get paid upfront. If you have cash, it gives a seller confidence that you'll pay, and they may be willing to take less money to have the money right away. If you're dealing with a private seller, cash can be a great negotiating tool because they know they can complete a sale quickly if they agree to your price.
Shopping for a boat can be fun, but make sure you get the best deal possible before you get out on the water. Do your research about the components of the boat's price and hone your negotiation skills for a successful buying experience.
Online
We'll ask easy questions about you and your boat, then you can choose coverages.
Get a boat insurance quote online
Call a rep
You'll speak with a licensed representative who will guide you through everything.
Call 1-866-749-7436
Through an agent
If you want local advice, we'll connect you with a licensed independent agent near you.
Find an agent online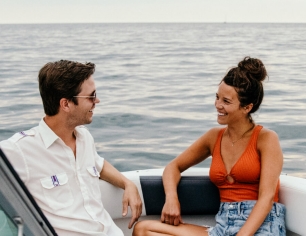 Enjoy life on the water with boat insurance from Progressive