Should I buy a sailboat or a motorboat?
When you're shopping for a boat, buying a sailboat vs. a powerboat comes down to what kind of experience you want. Before you buy, think about what you want to do on the water. A powerboat may be better if you're more interested in water sports, fishing, or other activities. If being on the water is the activity, you might prefer a sailboat.
4 min to read
Are sailboats cheaper than powerboats?
For boats of the same size, sailboats are often cheaper to buy and operate because they don't have big motors. You'll also save on maintenance and fuel costs in a sailboat. On the other hand, you may need a larger sailboat than you would a powerboat, which can increase costs. For example, if a boat is too large for you to tow to the water conveniently, you may decide to rent a slip at the marina.
A boat's size is also a factor in determining insurance costs, whether you're looking for sailboat insurance or powerboat insurance. Boat insurance is mandated in only a few states. However, you'll likely want to protect your boat against damage. Get more information on how boat insurance works.
What is the difference between sailboats vs. powerboats?
The key to comparing sailboats vs. powerboats is about the experience. There's no "right answer" about which is better, but you'll probably prefer one to the other. Here are five things to consider before buying a boat sailboat or powerboat.
1. Sailboats are more hands-on
For people who enjoy sailing, a big part of the experience is about engaging with the boat, planning for, and reacting to the weather, and learning a practical skill. If you like doing things yourself and want to spend more of your time on the water engaged in the act of controlling the boat, a sailboat may be the right choice.
2. Powerboats require less training
To sail safely and successfully, you'll need to know about boats, weather patterns, and other technical information. Powerboats make it much easier to get to a destination and don't require the same skill level to operate as sailboats do. If you prefer an easier experience on the water that you can start almost immediately, powerboats may be a better fit for you.
3. Sailboats and powerboats both offer flexibility
Sailboats can go anywhere if the weather is right. With good conditions and an able crew, you can travel long distances without stopping to fuel up. On the other hand, the size of the fuel tank limits where powerboats can go but they can travel regardless of the direction of the wind. Because powerboats can also accommodate shallower drafts than sailboats, they are also good for shallow water boating.
If you want to travel long distances, enjoy going with the flow, such as dropping everything because the wind is right, or are comfortable planning extensively for different weather possibilities, sailboats may be a more rewarding experience. If you want the ability to plan around a guaranteed day on the water, then a powerboat might make more sense when deciding between a powerboat vs. sailboat.
4. Sailboats are slower but can be more engaging
Speed is a big part of a powerboat's appeal. A powerboat's speed is necessary if you want to water ski or quickly get to your fishing spot. And if you fish, buying a fishing boat might be your best option. For those who enjoy cruising on the water, a sailboat is quieter and keeps you engaged with the task of operating the boat. It's the perfect fit for those who focus on the voyage rather than other activities.
5. Sailboats have less deck space
A boat's size and deck/below deck space are important considerations when choosing a sailboat. The boat's size will affect everything from whether you need to rent a slip to whether you can live aboard your boat.
Sailboats have more hardware and a different hull design than powerboats, so they usually have less space than similar-sized powerboats. You may need a bigger sailboat to carry the same number of people if you're shopping for a good family boat or plan to go boating as a social activity, so keep your average number of passengers in mind. Learn more about how to choose the best boat for your family.
Is a sailboat or powerboat safer?
According to the United States Coast Guard's 2020 Recreational Boating Safety report, sailboats accounted for less than 1% of fatal accidents, making them considerably safer than powerboats, which accounted for more than 50% of fatal boating accidents.
Learn more about buying a boat for the first time and the best boat to buy for beginners.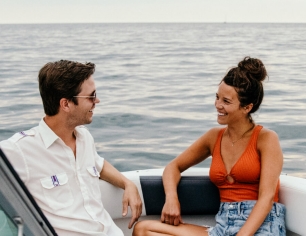 Enjoy life on the water with boat insurance from Progressive