Does insurance cover boat trailers?
While there's no specific "boat trailer insurance," adding your boat trailer to your boat insurance policy can financially protect your trailer if damaged in an accident. If a covered peril damages your boat trailer while it's on your property, your home insurance policy may cover the damage. And if your boat trailer injures someone else or damages their vehicle while you're towing it (with or without your boat), you'd be covered up to the limits of your car insurance policy's liability coverage.
2 min to read
Do you need insurance for a boat trailer?
No state requires you to carry insurance for your boat trailer — even the few states that require boat insurance. But, if you don't have boat and trailer insurance coverage and you're in an accident involving your boat trailer, you could be liable for the damages.
Weighing the value of the trailer, age of the trailer, and if you have the financial means to replace the trailer, can help you decide whether to add your boat trailer to your boat insurance policy.
Learn about boat insurance coverages.
Does boat insurance cover trailers?
A boat insurance policy can typically cover damage to your boat trailer if it's added to your policy, even if your boat isn't on the trailer at the time of the incident. Boat insurance won't pay for injuries or damages you cause while towing your boat trailer; that's where your car insurance policy comes into play.
Does car insurance cover towing a boat trailer?
While your car insurance policy won't cover damage to the boat trailer itself, it may cover damages caused to others while towing your trailer. If you're involved in a car accident while towing your boat trailer and it damages another vehicle or injures someone, your car insurance policy's liability coverage can protect you.
Does homeowners insurance cover stolen boat trailers?
If your boat trailer is stolen while stored at home, your homeowners insurance policy's personal property coverage can provide coverage. Homeowners insurance may also provide limited coverage for damages caused by other named perils such as lightning, storms, hail, and fire while the trailer is stored. Keep in mind that your policy may have a sub-limit for items like trailers.
Find out more about how homeowners insurance covers theft and stolen items.
Interested in boat insurance for your boat and trailer?
You can get insurance that includes your boat trailer by getting a boat insurance quote online or calling 1-866-749-7436.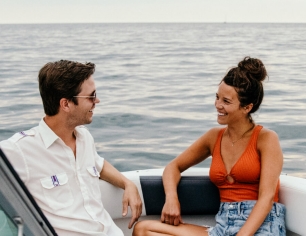 Enjoy life on the water with boat insurance from Progressive