Does boat insurance cover storm damage?
If your boat is damaged in a storm, boat insurance can provide protection if you carry physical damage coverages on your policy. Physical damage coverages are optional, although your financing company may require them if you're financing your boat. These coverages can pay to repair or replace your watercraft if it was damaged due to a weather-related incident.
3 min to read
How does boat insurance cover storm damaged boats?
Boats frequently experience damage during storms, and your boat insurance policy's physical damage coverages can pay for damages to your watercraft resulting from covered perils such as a windstorm or hail. If you have a liability-only boat policy, any damages to your watercraft won't be covered.
If your boat damages someone else's property, property damage liability coverage may cover damage you cause to someone else's dock, boat, property, or structures. Learn more about boat liability coverage and boat insurance coverages.
Example:During a thunderstorm, your boat crashes into the sea wall. Your boat insurance policy's physical damage coverages can pay to repair your watercraft, minus your deductible.
Does boat insurance cover hurricane damage?
Your boat insurer may pay for damage to your boat caused by wind and hail from a hurricane, unless explicitly stated otherwise in your policy. Contact your boat insurer to see how you're covered in case of a hurricane. Learn more about how boat comprehensive and collision coverage may protect your boat in a hurricane.
Does boat insurance cover sinking?
Your policy can pay for removing the boat from the water as well as damages to your watercraft. Depending on your policy, in the event of a total loss your insurer may pay you the fair market value of your watercraft or the agreed value. Your boat insurer may also offer optional coverage for personal belongings lost or damaged in a boat accident.
Pro tip:
Note that your policy may restrict boating beyond a certain geographical area. If your boat sinks while out of the agreed upon range, your insurer may not pay for the removal or damages. Check with your insurer to see if boating is restricted in certain locations.
How can I avoid storm damage to my boat?
If you're a new boat owner, learn how to protect your boat during hurricane season. Always check weather reports in advance and keep an eye on the horizon for unexpected weather. Check for flat clouds getting lower, a sudden drop in temperature, dark clouds to the west or southwest, and lightning.
Protect your boat from storm damage with boat insurance from Progressive
Online
We'll ask easy questions about you and your boat, then you can choose coverages.
Get a boat insurance quote online
Call a rep
You'll speak with a licensed representative who will guide you through everything.
Call 1-866-749-7436
Through an agent
If you want local advice, we'll connect you with a licensed independent agent near you.
Find an agent online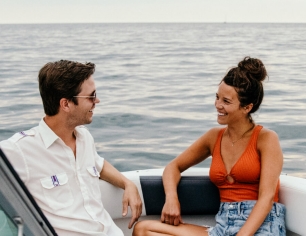 Enjoy life on the water with boat insurance from Progressive