Can you get a ticket for a cracked windshield?
Many states have cracked windshield laws that make driving with a cracked windshield illegal, but these laws vary from state to state. Federal regulations state that you cannot drive with a windshield crack or chip larger than 3/4 inch in diameter, two cracks within three inches of each other, intersecting cracks, or cracks directly in the driver's view.
2 min to read
Cracked windshield laws by state
The federal regulations from the U.S. Department of Transportation — no crack larger than 3/4 inch in diameter, no two cracks within three inches of each other, no intersecting cracks, or cracks directly in the driver's view — are the minimum standards. Your state may have additional and possibly stricter requirements. Pennsylvania, for example, does not allow any chips or cracks in the center of the driver's side of the windshield.
Pro tip:
The cracked windshield laws of a given state apply to you when you drive in that state. If you plan on driving out of state, it may be a good idea to have any cracks fixed before your trip.
Additional windshield replacement laws
States also have their own laws regarding windshield replacements and insurance company requirements. A few states require insurers to provide windshield replacements with no deductible for cracked or chipped windshields as a part of your comprehensive coverage. A handful of other states offer separate glass coverage with zero or low deductible options for windshield replacements.
How much is a cracked windshield ticket?
Cracked windshield tickets are generally considered non-moving violations and can be costly, depending on the state. Multiple offenses could also include a license suspension in some states. You may be able to avoid fines if you provide proof that the windshield has been repaired or replaced after receiving a ticket.
How can I avoid being pulled over for a cracked windshield?
Comprehensive auto coverage usually includes windshield glass repairs and replacements. Add this coverage to your auto insurance policy so you can have a cracked windshield repaired quickly at lower or no cost (note that coverage wouldn't apply to any pre-existing cracks or damages). With comprehensive coverage, you can get back on the road with a fixed windshield and avoid breaking the cracked windshield laws in your state.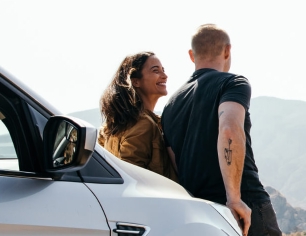 Quote car insurance online or give us a call