Do you need car insurance for your Mexico trip?
Yes, car insurance is required for visitors to Mexico, and your United States auto insurance policy won't be valid there. To be protected, you'll need to find specialized car insurance that covers you while you're in the country. In addition to car insurance, the U.S. State Department recommends getting bail coverage — this is included on all Progressive Mexico policies through MexPro.
4 min to read
How to get temporary Mexico auto insurance
Progressive can provide you with appropriate coverage through MexPro, a specialized broker for Mexico auto insurance policies. Get a quote through us, and MexPro will help you find policies tailored to your travel plans that have all the coverage you need to be fully compliant.
Rental car insurance in Mexico
It's recommended to insure a car you rent in Mexico through the rental agency. Coverage for a few days is usually affordable, and driving in Mexico can be hazardous due to poor road conditions and unenforced traffic regulations, so consider purchasing the highest liability coverage you can afford.
How much does Mexico car insurance cost?
Temporary Mexico car insurance generally costs less than a standard policy in the U.S. Your Mexico car insurance cost will vary by insurer and be based on factors like your vehicle, how long you need coverage, and which coverages and limits you choose — much like standard car insurance cost factors. The cost per day of Mexican car insurance for tourists typically decreases the longer your Mexico trip is.
MexPro offers varying periods of coverage, from one day up to a year. If you're planning a short-term trip to Mexico, you can get insurance coverage for just the period you'll be in the country. However, if you frequently cross the border for work or to visit family, you might consider a yearly plan that will protect you anytime you drive into Mexico.
How much is Mexican car insurance at the border?
Mexican car insurance at the border is typically far more expensive that purchasing a temporary Mexico policy ahead of time. So while it may be possible to get coverage at the border, you can save money and the hassle of purchasing at the border by getting a Mexico auto insurance policy ahead of your trip.
What kind of coverage do I need in Mexico?
The only type of coverage you're legally required to have in Mexico is liability, and you'll need to get it through a specialized insurer. Progressive Mexico Auto Insurance by MexPro can help you get the coverage you need. Consider the Mexico equivalent of these additional auto coverages when buying car insurance for your Mexico trip:
Some plans offer the option of repairing your vehicle in the United States if it's damaged in Mexico. This means the policy will cover additional labor costs associated with having your car repaired in the U.S.
Pro tip:
Research how much liability coverage is required in each of the Mexican states you plan to drive in. If you'll be traversing multiple states and one has a higher requirement for coverage limits, you'll need to get at least that amount.
What insurance documentation should I carry in Mexico?
When you purchase Mexico car insurance, you should receive a receipt, declarations page in English and Spanish, disclosures, claims instructions, roadside assistance instructions, and terms and conditions. Print a couple copies of everything except the terms and conditions, and take them with you.
Note: Mexico authorities accept electronic documentation as proof of insurance, though it's suggested to have printed copies on hand. MexPro will email your documentation in one PDF document once you purchase a policy.
During your Mexico trip, carry one copy of your car insurance documentation when you're driving and keep one in a more secure place like your hotel safe. You should also be prepared to access a digital version. If you get in an accident or pulled over for a traffic violation in Mexico, show your documentation to the police as proof of insurance.
Find out the additional documentation requirements for driving into Mexico.
Is my car insurance valid in Mexico?
No, U.S. auto insurance policies aren't valid in Mexico. If you'll be driving in Mexico, even for a short time, auto insurance is required by Mexican law, and you could end up in jail if you're involved in an accident and don't have it. If you're found to be at fault, Mexican authorities could detain you until liability coverage for the necessary amount can be verified. Because of this, the U.S. State Department recommends adding bail coverage to your Mexico auto policy.
Learn more about international car insurance.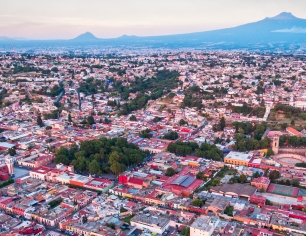 Quote Mexico auto insurance for your trip