Does car insurance cover hitting a dog?
Hitting a dog or other animal with your vehicle is a very distressing experience. That's why it's important to know what to do, as well as how your insurance may apply. Generally, if you have comprehensive coverage, your insurance will pay for any damage to your vehicle. Depending on the circumstances of the accident, your liability coverage may cover the dog's vet bills and other expenses if you're found responsible for them.
2 min to read
What to do if you hit a dog while driving
Every situation can be different, but there are a few general steps you can take to help:
Don't move the dog, if possible: Injured dogs can be aggressive, and their actions can be unpredictable. If possible, don't move the dog, as you could end up being bitten or doing more damage to the dog. If the dog must be moved out of the road, put a blanket, jacket, or other covering over it to help protect the dog and yourself.

Call the police: You should never leave the accident until you've contacted the police or animal control. This is a legal requirement in many states, and you could end up in legal trouble if you simply drive away. Pets are considered personal property in most states, so if you're responsible for a hit and run involving a pet, any injuries or the loss of the pet could be regarded as property damage. In addition, you could be charged with animal cruelty if you leave the scene after hitting a pet.

The police will tell you how to proceed and file a police report if they deem it necessary. Animal control should aid the animal if the owner can't be located.

Contact the owner: If the dog has a tag with contact information on it, you should contact the owner and inform them of the accident. The police may also contact the owner on your behalf.

Notify your insurer: If your car has been damaged and you wish to file a claim for the damage, you'll need to notify your insurer of the accident. They'll ask for details of the accident, including photos of the damage. Even if your vehicle wasn't damaged, it's still a good idea to notify your insurer of the accident.
How does car insurance cover hitting a dog?
Comprehensive coverage can pay for damage to your vehicle caused by hitting a dog or other animal. You would pay your car insurance deductible after filing a claim, and your insurer would cover the rest of the repair costs. Your insurance company may also approach the dog's owner and request that their homeowners insurance company compensate them for the cost to repair your vehicle. This occurs in cases where the pet owner is found negligent for not having their dog under control at the time of the accident.
Which animals do you have to report if you hit them?
In many states, you're required to stop and call the police or other local authority if you hit a domestic animal, such as a dog or cat. If you don't stop, you could be charged with animal cruelty or failing to notify owners of property damage.
If I hit a dog with my car, who pays for the dog's injuries?
While it can vary by state, most states consider dogs as property for insurance purposes. Therefore, if the dog is running loose when you hit it, the owner would most likely be responsible for the dog's care and vet bills. If you intentionally hit a pet or are driving recklessly, however, you may be responsible for the dog's vet bills, as well as compensation if the dog dies. Your auto policy's property damage liability coverage may not cover these expenses, depending on the insurer, if you acted intentionally.
If the dog's owner can't be located, it's best to call the police or animal control instead of taking it to a vet yourself. This will ensure the animal gets the care it needs without taking on the legal and financial responsibility for its well-being yourself. If you do take an injured dog to the vet and don't know who the owner is, the cost could fall on you. Let the vet know so you can discuss how to proceed and what to expect.
What happens if the dog dies?
In most cases, if the dog was running loose, the owner would be found negligent, which means you're not responsible for the accident, even if the dog dies. While you may feel awful, you wouldn't be responsible for any costs related to the dog's end-of-life treatment or burial fees, legally or financially.
If you're found to be responsible for the accident due to driving under the influence or intentionally swerving to hit the dog, you could be responsible for compensation to the owners. Intentional damage is often excluded from coverage by insurers as well, so if you intentionally injure a pet, you'll most likely have to cover any vet bills, end-of-life care, or burial costs yourself.
What happens if my dog was hit by a car?
If your dog was hit by a car and suffered injuries or was killed, you most likely have very little recourse towards the driver that hit your pet unless they hit your dog intentionally or they were driving recklessly.
If your dog managed to get out and was running loose, you may be considered negligent, and any vet bills or end-of-life costs for your pet will fall to you. In addition, your homeowners insurance may pay to repair the vehicle that hit your dog.
Pro tip:
Pet insurance can help cover veterinary bills if your pet gets sick or injured in an accident. Check with your insurer for details about their pet insurance policies.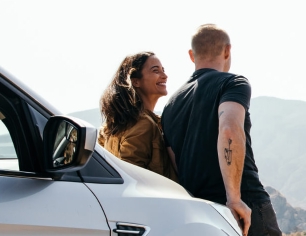 Quote car insurance online or give us a call