Does car insurance cover tire damage?
If you have comprehensive and collision car insurance coverage, then you're typically covered for tire damage if it's the result of an accident or something unexpected, such as theft or vandalism. Tire damage from normal wear and tear isn't covered by auto insurance, though your manufacturer's warranty may cover defects, premature wear, road hazards, and other types of damage.
3 min to read
Does car insurance include a tire protection plan?
Auto insurance policies don't include tire warranties, specialized tire insurance, or a tire protection plan that covers normal wear and tear on your tires. Depending on which state you live in, however, your tires and wheels may be covered from damage caused by potholes, vandalism, and other mishaps through the optional coverages below:
Comprehensive coverage: This coverage offers protection for damage caused to your vehicle by circumstances other than an accident. Examples include damage due to flood, hail, theft, and vandalism. If a strong storm causes a tree to puncture a tire or a vandal slashes your tires, comprehensive car insurance coverage will pay for the damage.
Collision coverage: With this coverage, you're protected against vehicle damage caused by an accident. If your tires are damaged after getting hit by another car, you can file a claim under your collision coverage to help pay to repair or replace them.
If you want more coverage for your tires, you may want to consider a tire protection plan from a tire dealer. Retailers typically offer protection plans that cover wear and tear up to a certain number of years or miles, as well as damage caused by road hazards like nails. As with insurance, it's a good idea to shop around for a plan and weigh the additional cost against the coverage offered.
Consider custom parts and equipment coverage
If your ride has custom wheels or rims, custom parts and equipment coverage (CPE) will repair or replace these parts if they're damaged in a covered accident. The cost of replacing custom wheels is much higher than replacing standard tires. And if your custom wheels weren't installed by the original manufacturer, you should consider insuring them. Progressive's CPE coverage typically insures your custom wheels for up to $5,000.
Will insurance cover slashed tires?
Yes, your car insurance will cover slashed tires if you have comprehensive coverage. There's a common misconception that insurance companies won't cover three slashed tires but will cover four slashed tires instead. The truth is that you're covered for any number of slashed tires, as long as you have the right coverage.
Does car insurance cover flat tires?
Your car insurance policy typically won't pay to fix or replace a flat tire, unless it's the result of an accident. However, many insurers (including Progressive) offer roadside assistance coverage that will send a professional to change your flat and get you rolling again. With Progressive's 24/7 Roadside Assistance program, you're also covered for tows, jump-starts, fuel delivery, and more.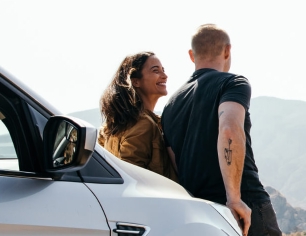 Quote car insurance online or give us a call