Does insurance cover a car seat replacement?
If you have collision coverage, your insurance will typically replace a car seat involved in an accident. Even if a car seat doesn't have obvious damage, insurance providers may pay to replace it as the integrity could have been compromised in the accident.
4 min to read
Does car insurance cover a baby's car seat in an accident?
The National Highway Traffic Safety Administration (NHTSA) recommends that parents replace car seats "following a moderate or severe crash" to keep kids as safe as possible. Following these guidelines, car insurance providers will often cover the cost of a new car seat under your collision coverage in the case of an accident.
How to replace a car seat after an accident
It's important to understand the recommendation to replace a car seat following a moderate to severe crash. A crash is considered minor when the following is true:
You can drive the vehicle from the crash site
The vehicle door that's nearest to the car seat wasn't damaged
No passengers in the vehicle sustained injuries
The vehicle's airbags didn't deploy
No visible damage to the car seat can be seen
If the accident meets all those criteria, you may not need to replace the car seat. However, some manufacturers recommend replacing a car seat after any accident. When in doubt, the NHTSA recommends following the manufacturer's guidelines for when to replace a car seat. You should check your car seat's manual or contact the manufacturer to confirm their guidelines.
When filing your auto insurance claim, you'll need to let your insurance provider know that you'll need a new car seat, and the type of car seat damaged in the accident, so they can reimburse you. Insurers will typically pay for a replacement that matches the quality and type of car seat damaged in an accident.
How to select a new car seat after an accident
The most important factors to picking out a new car seat following an accident include selecting a car seat that fits your child and that the seat is something you'll properly use. With multiple types of car seats — rear-facing, front-facing, booster, and convertible styles — follow the rules outlined for your state and the manufacturer's guidelines in selecting the proper design based on your child's age, weight, and height.
Remember that not all car seats fit into every vehicle, so you'll also want to ensure you're choosing a car seat that will work well in your vehicle. Having a car seat that you can properly install and easily use is key to keeping your child safe.
As your child grows, they'll move into different styles of car seats. According to the NHTSA, children will graduate from a rear-facing to a forward-facing seat sometime between ages 1 and 3. The next step in the progression goes from a front-facing seat to a booster seat, often between ages 4 and 7. The child needs to be in a booster seat until they can fit properly into a seat belt without a booster, which, for some children, won't occur until around age 12.
The NHTSA has a handy Car Seat Finder tool to help you understand finding the right car seat for your child.
How to dispose of a car seat after an accident
Handing down an old car seat isn't the safest practice, especially if it was involved in an accident. It's best to dispose of the car seat immediately upon damage. Other than sending your car seat straight to a landfill, you might be able to find a recycling program for car seats in your state.
If you're unable to find a recycling program and you need to put the car seat into the trash, ensure that someone else can't mistakenly use the seat if they find it. Cutting the straps off offers an obvious way to show it shouldn't be used and helps keep everyone safe.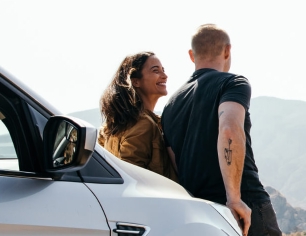 Quote car insurance online or give us a call