Does homeowners insurance cover landscaping damage?
Homeowners insurance generally extends coverage for damage to your landscaping if the loss results from fire, lightning, vandalism, theft, or explosion. Damage to your yard caused by someone else's vehicle may also be covered under your home insurance policy.
3 min to read
What type of landscaping is covered under a homeowners insurance policy?
Your yard, trees, shrubs, and plants may all be covered, depending on the peril that causes the damage. Your policy will list the specific covered perils your landscaping is protected against, such as fire, lightning, vandalism, and theft.
Yard and bushes
Your homeowners insurance may cover your yard, depending on the type of damage that occurs. If the damage results from a peril such as fire, lightning, or theft, it will typically be covered. Some homeowners policies also extend coverage for damage caused by a vehicle that isn't owned or operated by a resident of the house. Keep in mind that even though you may have coverage for your yard, it may only help with the removal, not replacement, of the damaged landscaping.
Fallen trees
Your homeowners insurance generally covers damage caused by fallen trees, resulting from a covered peril. If your tree fell due to a storm or strong winds and damaged an insured structure, the removal costs will likely be covered. However, if your tree falling was a result of the homeowner's negligence or a maintenance-related issue, the removal costs likely won't be covered. Depending on your insurer, there may be a limit to the amount that your policy will pay to remove fallen trees.
Trees, plants, and shrubs
Trees, plants and shrubs are typically covered under homeowners insurance. Like other landscaping features, damages may be covered if they're due to perils such as fire, explosions, lightning, theft, and vehicles (assuming the vehicle isn't owned or operated by a resident of the house). However, issues caused by wind, hail, rain, ice, or snow may not be covered. Check with your insurer to find how you're covered, as many policies will only cover each shrub up to a certain amount.
Does homeowners insurance cover garden walls or yard erosion?
Homeowners insurance providers usually won't offer coverage for garden retaining walls and yard erosion, but check with your insurer to find out if you have coverage.
What is the coverage limit for landscaping?
Most homeowners policies have limits on how much protection you have for your landscaping. Some policies will cover you for 5% of your total dwelling limit for damage to trees, shrubs, and plants. Note that there are often additional sub-limits for how much your insurance pays to replace each individual shrub or tree.
Example:Your yard is vandalized, causing $7,000 in landscaping damage. Your dwelling coverage limit is $200,000, so you're covered up to $10,000 for trees, shrubs, and plants.
Get a home insurance policy that can cover landscaping
Online
Compare and customize your coverages and limits when you quote online.
Get a home insurance quote
Call a rep
Talk to a licensed representative who can help you quote home insurance.
Call 1-866-749-7436
Through an agent
Connect with a licensed independent agent in your neighborhood.
Find an agent online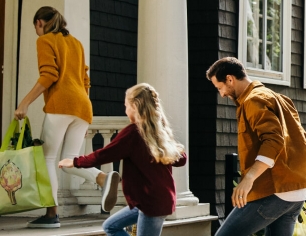 Quote homeowners insurance online or call for advice