Does homeowners insurance cover wiring?
Your homeowners insurance policy may cover damaged wiring under your dwelling coverage. This may include things like your electrical panel. However, many insurers won't cover certain wiring issues, such as faulty workmanship or repair. Additionally, some insurance companies may not want to offer you a policy if your home has a type of wiring with known issues, such as knob-and-tube or aluminum wiring.
4 min to read
What is knob-and-tube wiring?
Knob-and-tube wiring is an older method of electrical wiring, frequently used in homes in the early 20th century. The name comes from the porcelain knobs that support the electrical wire and the tube insulators that cover the wire as it passes through studs and joists.
Knob-and-tube wiring that's properly installed and in good condition isn't inherently dangerous, according to the International Association of Certified Home Inspectors. However, it can be more susceptible to fraying and deterioration due to the age of the wiring. It can also pose a greater risk of fire if wall insulation envelops the wiring and the system is under heavy load. Knob-and-tube wiring also lacks grounding wire to safely divert excess electricity.
Will insurance cover knob-and-tube wiring?
Obtaining homeowners insurance that covers knob-and-tube wiring can be tricky. Some providers may offer you a policy, while many will decline to offer a policy. Companies willing to insure a home with knob-and-tube wiring may charge a higher premium because of the increased risk of fire it presents. They may also ask for an inspection report that details the condition of the wiring before providing coverage.
Will homeowners insurance cover aluminum wiring?
Like knob-and-tube wiring, aluminum wiring is considered a risk by insurers. Although some insurance companies will insure homes with aluminum wiring, it may come at a higher premium. The main reason aluminum wiring, commonly found in homes built between 1960 and 1980, is considered a hazard is because it's less durable than other materials such as copper and tends to age and deteriorate faster.
Does homeowners insurance cover electrical panels?
Electrical panels are typically covered by your homeowners policy if the damage is the result of a "sudden and accidental" loss caused by a peril, such as a fire or lightning. However, you typically won't be covered if the damage is the result of age or improper maintenance.
Does a home warranty extend coverage to electrical systems?
A home warranty plan, unlike homeowners insurance, can help provide extra protection for problems that arise from daily wear and tear. This coverage is typically extended to electrical systems as well. The components of your electrical system that may be covered include:
Lighting fixtures
Electrical panels
Direct current wiring and junction boxes
Circuit breakers, fuses, and switches
Ceiling and exhaust fans
Garage door openers
Smoke detectors
Exhaust fans
Electric motors and mechanical parts of appliances
Note that home warranties typically don't cover electrical issues resulting from circuit overloads, lightning strikes, power surges, or power failures.
Pro tip:
Have your home electrical system inspected by an electrician at least every three to five years to ensure it's safely running at optimal levels.
Electrical wiring safety tips
Whether you're purchasing a new home or have owned one for years, there are simple steps you can take to keep your electrical systems safe. Before purchasing a home, it's essential that you hire a qualified electrician to inspect your home's system. Homeowners should consider these preventive tips:
Never overload electrical outlets
Replace frayed or damaged electrical cords
Keep all electrical cords away from heat sources and water
Use bulbs with the correct wattage for their light fixture
Unplug unused appliances to avoid overheating or power surges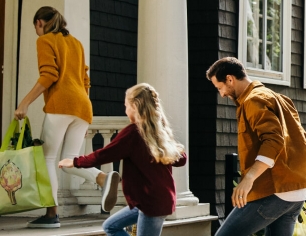 Quote homeowners insurance online or call for advice