What are common first-time home buyer mistakes?
Buying a home may be the largest financial investment you make. You may have some anxiety as a first-time buyer. However, you can take some stress out of the process by avoiding common mistakes such as ignoring credit reports, not working with a real estate agent, and failing to budget for home payments.
4 min to read
Home buying mistakes and how to avoid them
Ignoring your credit reports
One of the most common first-time homebuyer mistakes happens when buyers shop for houses before checking their credit reports. Home lenders check credit to qualify you for a loan and determine your interest rate. Errors in your credit report can lower your credit score and increase the cost of your home loan.
You can request free copies of your credit reports from the three major credit bureaus (Equifax, Experian, and TransUnion). You can get a free copy of each report once every 12 months. You can review them carefully to make sure they're accurate. If there are any issues, file a dispute to get them corrected as soon as possible.
Don't make any major changes to your credit between getting preapproved for a home loan and the loan closing. Lenders check your credit at both points. If they see newly opened or closed accounts or additional large purchases, your home loan could be in jeopardy.
Not shopping around for the best preapproval rate for your home loan
Many first-time homebuyers make the mistake of searching for and finding what they think will be the perfect home and putting an offer on it, only to lose out because their financing isn't in place. Home sellers and their real estate agents typically prioritize offers made by preapproved buyers. Preapproved buyers provide a higher level of assurance that a sale will go through than a buyer with no preapproval.
After making sure your credit reports are accurate, get preapproval quotes from multiple mortgage lenders. The credit bureaus usually count multiple similar inquiries within a short period as one inquiry, so this should only have a minimal effect on your credit score. This may be one of the biggest cost-saving tips for first-time home buyers.
Not learning about down payment options
The classic school of home buying thought was that you had to put at least 20% down. You shouldn't pay any points (an additional fee in exchange for a lower interest rate) at closing. However, depending on the loan, you may have the option to purchase a home with a lower down payment. Consider how much of a down payment you can afford and whether the extra money upfront will benefit your monthly mortgage payment.
Understand that with a down payment of less than 20%, you may have to pay for private mortgage insurance (PMI). However, there are some government and first-time homebuyer programs that may eliminate that requirement for you. Learn more about closing costs when buying a home.
Not working with a real estate agent
When you contact a real estate agent about a house they've listed, they're working on behalf of the seller. A buyer's agent, or buyer's broker, is simply a real estate agent who agrees to represent you as the buyer and works to secure the best deal possible on your behalf. And there's no additional cost to you.
Check with friends, colleagues, and other sources you trust for a buyer's agent. One additional first-time home buyer tip: Ask your agent how they'll handle a situation where the seller's agent works in the same agency. You want to feel confident that your agent is protecting your interests.
Failing to budget beyond your monthly mortgage payment
It's easier than ever to find a mortgage calculator online, plug in a few numbers, and come up with an estimated monthly payment. Remember that these calculators may not account for other expenses that come with owning a home, including things like:
Homeowners insurance
Property taxes
Homeowners association fees
Utilities (water, garbage, etc.)
Upkeep (landscaping, painting, weatherproofing)
Repairs and replacements (plumbing, heating, appliances)
When you consider what to look for when buying a house, include all the expenses of owning a home — not just the mortgage payment. Learn more about the average cost of homeowners insurance and use our home affordability calculator to calculate monthly payments and see how much you can afford.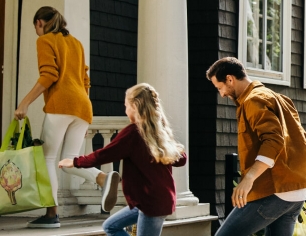 Quote homeowners insurance online or call for advice