What are the important things to repair before selling a house?
When selling a house, first take stock of the property's features. While it's unlikely you can address every flaw, there are some important repairs to make before selling a house that can get your house noticed. Some of those fixes include painting, grouting tiles, and fixing broken fencing. The best home improvements to make before selling can help make your home look new without breaking the bank.
3 min to read
What to fix up when selling a house
Minor cosmetic repairs – generally updates that you can do without professional help—should be your first consideration when getting your house ready to sell. It's a low-cost way to improve your home's charm, especially if you can complete them yourself. Minor repairs add up and help make your home more inviting.
A fresh coat of paint
One of the best home improvements to make before selling is laying down a fresh coat of paint. Repainting your home — interior or exterior — can be one significant way to make your home more appealing to potential buyers.
Grouting
Tilework can be an eye-catching home feature on bathroom floors and kitchen backsplashes, but make sure it's eye-catching for the right reason. Consider replacing any broken tiles, but above all, consider updating the grout so it looks fresh and clean.
Curb appeal
The exterior is your home's first impression, and the first thing potential buyers see when viewing the property. Cut the lawn and tidy and fix any broken fencing or railings. Replace any torn window screens and consider power-washing pathways, decks, and sidewalks, if necessary.
What are the best renovations to do before selling?
Although they can increase your home's market appeal, major repairs and renovations can be costly. You won't always see a return on investment (ROI), so these may fall in the "what not to fix when selling a house" category. Weigh your options and consider your budget – while making costly renovations may help the property garner interest from buyers, you may not recoup your expenses when the home sells. A home inspection before you put your house on the market can also help you prioritize repairs.
Flooring refresh
One of the best renovations to do before selling is adding new or updated flooring. This is often a major draw for potential buyers. New carpeting, tiles, or refurbished hardwood floors signal to the new owner that they won't have to worry about fixing the floors for a long time. And while the process generally requires professional help, hardwood floors are often a major draw for buyers, making this one of the best renovations to do before selling.
Kitchen updates
A stylish kitchen is a major selling point. If your kitchen shows signs of wear or is outdated, buyers may be turned off. However, a full kitchen renovation is expensive and time-consuming. Instead, consider making more manageable changes.
Repainting the cabinets and updating hardware can help make an outdated kitchen appear current. Replace any fixtures and appliances that don't work or are in visibly bad shape. And though a new countertop can go a long way in making your kitchen more stylish, be sure to stay with what fits into your budget. Remember that even the smallest improvements can make a big impact. Learn more about the difference between selling a house as is or fixing it up to sell.
Learn more about how home insurance covers renovations and how home insurance works when selling a house.
Selling your current home and looking to buy a new one?
New Progressive customers
Get a homeowners insurance quote online or call 1-866-749-7436.
Current Progressive customers
To learn more about your current homeowners policy, contact your provider.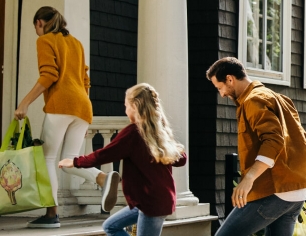 Quote homeowners insurance online or call for advice