How to calculate average car mileage per year
Your annual mileage may vary based on a number of factors, including commute time and lifestyle. Many auto insurers ask about mileage because the more miles you drive, the more opportunity you have to be involved in an accident or other event. Some insurers only ask about the length of your commute, but others ask for your estimated annual mileage.
2 min to read
What factors affect annual mileage?
According to 2018 data from the Federal Highway Administration, the average American driver averages just under 14,000 miles each year. Your average mileage may vary depending on a few different factors, including your age, where you live, the length of your commute, and your lifestyle habits. For example, drivers in urban environments and larger cities may drive less than their rural counterparts thanks to the availability of public transportation.
Workplace commuting is an important factor since it can vary so much. Data from the United States Census Bureau indicates that Americans face an average commute of more than 27 minutes, an increase of about 10% over a 14-year period. Despite that average, nearly 10% of workers commute more than an hour, while roughly 12% have commutes of less than 10 minutes.
How to calculate annual mileage
There are two easy ways to figure out how many miles you drive each year.
Compare records from your mechanic
If you have the paperwork from your car's scheduled maintenance going back a year or more, you can compare two appointments a year apart to get the exact number of miles you drove during that year. This method won't account for recent variations in your habits or circumstances, though — if you moved, for instance, your commute could be very different, which would affect your mileage.
Track your mileage
You can also track your mileage for a month and then multiply that number by 12. However, this method won't account for extra mileage from vacations or holidays, so it may be a little low. On the other hand, it can be helpful if your circumstances have recently changed (e.g., you've started working from home). Your car's history won't reflect your new circumstances yet, so this method can be a good option if you need to calculate your annual mileage for the future.
When you estimate your annual mileage, try to be as accurate as possible. It may not be the most important factor in determining your rate, but it can help you obtain a precise car insurance quote. Learn how car mileage may impact your insurance.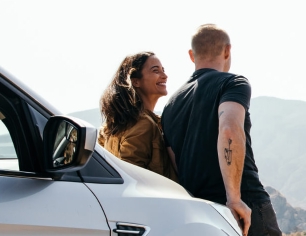 Quote car insurance online or give us a call