How to make an offer on a house
The process for making an offer on a house is nuanced but generally involves determining a budget, researching the area, and understanding the seller's priorities. You can work with a real estate agent to help put together a proposal. The proposal will outline the monetary amount you're offering based on property costs and home insurance rates in the area, what repairs or contingencies you're requesting of the seller, a detailed timeline for closing, and any intent to offer a good faith deposit.
4 min to read
What are the steps to putting in an offer on a house?
Knowing the general sequence of events before making an offer is helpful because it allows you to research and prepare. Preparation and thoroughness will help make your offer stand out.
Research other properties in the area
Knowing the cost of similar homes in the neighborhood will help you determine what a property is worth and give you clues on what to offer on a house. It will also provide a ballpark idea of what your final cost might be.
Know your budget
Purchasing a home comes with additional expenses, such as closing costs and real estate agent fees, so it's important to factor these into your offer. You want to make sure that once you've made a down payment or deposit, you'll still have enough to cover any other costs that might arise, like in the event of cost negotiation or competing bids. Additionally, research homeowners insurance cost for similar properties in the area to help ballpark your premium and ensure you're getting a fair rate.
This will also help you nail down your budget and determine how much you're willing to offer for the home.
Consider the seller's point of view and priorities
Are they eager to sell, possibly to fund the purchase of a new property or for other reasons? Is the property or the area desirable enough to garner competing bids? Has the house been on the market for a long time? All these factors should inform your offer. Your real estate agent will help you utilize this information to adjust and optimize your offer.
Should you get preapproved for a home loan before making an offer on a house?
While getting preapproved for a loan is not required, it can strengthen your offer. It shows the seller that you're proactive and reassures them that you won't have to rescind your offer later after failing to be approved for a certain amount. Obtaining a preapproval letter could be the edge that you need in getting your offer accepted. Learn about first-time home buyer mistakes to avoid.
What does an offer on a house include?
Your offer or purchase agreement will include your preferred purchase amount, any contingencies you may have, a breakdown of any additional fees, a proposed closing date, and a timeframe in which the seller is required to respond.
What are contingencies?
Contingencies are conditions that a prospective buyer requests of the seller. By including contingencies in your offer, you're indicating that you are interested in purchasing the property for a certain amount, but only if those conditions are met. Common contingencies include but are not limited to the following:
Home Inspection Contingency: This indicates that a buyer is making the offer with the stipulation that the property must pass various types of home inspections. If issues are discovered in these inspections, the buyer will not negotiate.
Appraisal Contingency: Once the seller accepts the offer, your mortgage lender will appraise the property to ensure the price is within a range based on comparable homes. The buyer can rescind the offer if the appraiser determines the proposed price is out of range.
Home Sale Contingency: This indicates that the offer is contingent upon the sale of the buyer's previous home within an allotted time frame.
What is a counteroffer and how does it work?
The seller's agent may return the offer with requested changes, such as pushing out the closing date or a change of price. You will have the option to reject or accept the offer or submit another counteroffer. Your agent will be working closely with you to negotiate what you wish to change and assist in navigating this process to ensure your offer isn't compromising any of your priorities as a buyer.
How can you make an offer stand out?
When making an offer on a house, it's important to make your offer desirable to the seller. One option is to offer a large down payment rather than the minimum down payment. Offering anywhere up to 20% can give your offer a much-needed edge. Another option is to offer an earnest money deposit, also called a good faith payment. This means you're offering a sum upfront to be paid prior to closing. It's a great incentive for sellers who will be funding another purchase with the money from the sale.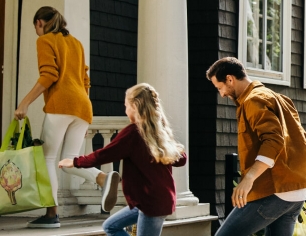 Quote homeowners insurance online or call for advice