What's the best motorcycle for snow and winter commutes?
Many motorcyclists say the best winter motorcycle is simply the one with which you're most familiar and comfortable. If you can get one, the best motorcycle for winter commuting may be a second bike: one that's simpler, sturdier, and can take more of a beating without you being too concerned about it. Equipment-wise, getting proper tires for your driving conditions is the most important upgrade for a winter commuting motorcycle.
3 min to read
What types of motorcycles are best for riding in the snow?
The best motorcycles for snow riding have attributes such as fatter tires, greater engine displacement, low-end torque, and well-maintained brakes.
Knobbier, fatter tires
In winter, slicker roads mean you'll appreciate tires with better traction. The amount of traction you need varies based on the winter weather where you live and your skill and comfort with slippery riding conditions.
Greater engine displacement
Sometimes referred to by the engine's cubic centimeters (cc), engine displacement is a potential indicator of the power a motorcycle engine can produce. Having more power in the winter is never a bad thing.
Better low-end torque
Riding your motorcycle through snow often means riding at lower speeds. Low-end torque refers to the power your motorcycle generates while it's in lower gears. All other things being equal, a bike with better low-end torque makes for a better winter bike.
Well-maintained brakes
Motorcyclists often recommend relying on natural deceleration as much as possible while riding your motorcycle in the snow. But when you need your brakes – especially your rear brake – you want them to work as intended.
What options can make winter motorcycle commuting more comfortable?
Heated seats and grips are two ways to fight off the cold. Hand guards or muffs offer an additional layer of protection, as does a higher windscreen. Where riders sometimes disagree is on the use of fairings. Fairings are the covers over the engine and other working parts of the motorcycle. They also reduce drag while riding and offer some wind protection.
While that may sound like a no-brainer for winter riding, other motorcyclists advocate for riding "naked" – without fairings – because it makes maintenance and cleaning easier. Fairings may also be damaged if you drop your bike, which goes back to the question of whether you mind your bike getting dinged up in the winter. Many riders recommend hand guards and crash bungs to help protect you and your bike in the event of spills, which are more common in winter than any other time of year. Learn more about the best motorcycles for commuting and the best motorcycles for new riders.
Are there any specific winter motorcycle maintenance concerns?
Making sure you're up to date on your routine motorcycle maintenance is a must regardless of the season, or even if you're using a bike you don't mind getting beaten up. Your brakes should also be in the best shape possible.
Because of salt and sand on the roads, you should wash your bike at the end of every riding day if possible. Once it's clean, you can apply an anti-corrosion spray to the engine and other metal parts. Where you have joints, hinges, and the like, spray grease will help keep them working smoothly.
What else should I consider about winter motorcycle riding?
Regardless of the motorcycle, you'll want great weather protection for yourself. Keeping your face, hands, and feet warm is critical for your mobility and responsiveness while riding in winter. As for the rest of your body, you'll want to invest in high visibility clothing that's insulated and waterproof.
Riders also recommend leg shields, fog masks to help keep your visor clear, and balaclavas or some other form of protection to keep your neck warm and bridge the gap from helmet to clothing. There's also heated motorcycle clothing that can plug into some motorcycles. It draws power from the bike to keep you warm wherever you're traveling.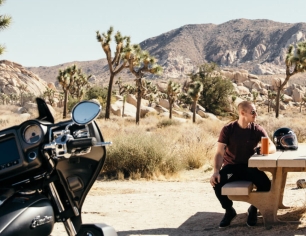 Enjoy life on two wheels with motorcycle insurance from Progressive