What makes the best commuter motorcycle?
If you're looking for the best motorcycle for commuting to work, consider where you'll be riding. You'll also want to consider how much experience you have and what type of commute you have. For example, the best motorcycle for long commutes on the freeway will be different from a bike used for navigating the streets of a big city.
4 min to read
How to choose the best motorcycle for your commute
When you're trying to find the best commuter motorcycle for your situation, start by asking yourself the following questions.
What kind of rider am I?
If you're a new motorcyclist, you should think about getting a motorcycle for beginners until you have some miles under your belt. These more approachable bikes will help you learn how to ride a motorcycle. Getting a bike that you're comfortable controlling and that matches your experience level can make it easier to navigate traffic on your commute.
More experienced riders can consider a broader range of bikes. A higher level of riding skill and more profound knowledge of motorcycles can guide help you choose between buying a new vs. used motorcycle.
What kind of commute do I have?
The details of your commute impact what makes the best commuter motorcycle for your situation. If you have an urban commute and you are driving through city streets, you'll want something that performs well at lower speeds. Smaller-engine cruisers and standards are often better than high-speed sport bikes for these conditions. Sportbikes may have reduced visibility in the mirrors. More extreme riding positions can make it uncomfortable to stop at red lights with your feet on the ground.
If you ride on the freeway, you should look at bikes that can comfortably cruise at highway speeds without working too hard. This is especially true if you'll cover many miles each way. At highway speeds, bikes with full or partial fairing can offer less drag and more comfort, especially if you'll be riding year-round or in winter conditions. If you commute by motorcycle in the winter, learn more about the best motorcycle for snow and winter commutes.
What else will I use my motorcycle for?
Are you shopping for a motorcycle exclusively to commute, or do you intend to use it for weekend rides or vacation trips? Are you thinking about getting a commuter motorcycle to replace your car? These questions can help you identify what else to look for in a bike.
Why do I want to commute by motorcycle?
People choose to commute by motorcycle for different reasons, making a difference when selecting the best commuter motorcycle. If you want to enjoy the freedom of a motorcycle, you may prioritize performance or riding comfort over other factors. If you're trying to save money, then getting a smaller, more efficient motorcycle would be a better choice.
Example:If you're looking for the best motorcycle for commuting and touring, you'll probably want something more significant and with more carrying capacity than if you need your bike to dash across town to work each day.
Should I get a motorcycle for commuting?
Now that you have looked at some great commuter motorcycles, you might be wondering about the practicality of riding a motorcycle to work. Commuting by motorcycle can be a great way for passionate riders to get more time on their bikes or for more newcomers to save money on transportation without being dependent on public transit. Motorcycles can offer benefits over cars for commuters, too.
Some studies indicate that motorcyclists spend less time in traffic. That may be because some states allow lane splitting (e.g., the act of riding a motorcycle between two lanes of traffic). Other states allow lane filtering when riders pass rows of stopped or slow-moving cars, such as at stoplights or traffic jams. Many states also allow motorcyclists to use carpool lanes. Another potential benefit to motorcycle commuting is cost. Because they are generally more fuel-efficient than cars, motorcycles can save you money if you rack up a lot of miles each day.
On the other hand, motorcycle commuting leaves you exposed to the elements in bad weather, at a higher risk of sustaining an injury in a serious crash, and you may need to change out of your riding gear into work clothes once you arrive. Learn about how motorcycle insurance covers medical bills if you're injured on your bike.
If you are commuting by motorcycle, get the right coverage with Progressive
Online
Answer easy questions, choose your coverages, and get the protection you need.
Get a motorcycle insurance quote
Call a rep
Speak with a licensed representative who will help you through the entire process.
Call 1-866-749-7436
Through an agent
Get expert advice from a licensed independent agent near you.
Find an agent online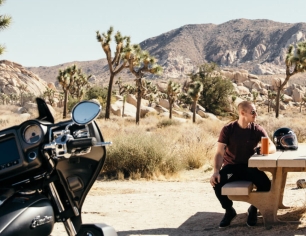 Enjoy life on two wheels with motorcycle insurance from Progressive