Buying a motorcycle from a dealer
Buying a motorcycle from a dealer requires that you do your research. Before entering the dealership, you'll want to know your budget and what type of bike you want. Most dealers will let you test drive bikes to help you decide. Some dealers will also have financing options and incentives to help close the deal.
3 min to read
Tips for buying a used motorcycle from a dealer
When you're buying a used motorcycle from a dealer, know the proper way to negotiate to help you save money. The most important thing to keep in mind is the value of the motorcycle you're buying. If you're interested in a common model, prices will be much lower than if you're looking for a limited-run model.
On the other hand, if you know the value of a motorcycle is lower than what the dealer is asking, use that to your advantage. It would help if you also had some idea of the value of modifications. A motorcycle with several replacement parts might lose value for not being authentic, but it may also be more valuable because of the modifications.
Make an offer as low as possible that is still reasonable. You want the dealer to take you seriously, so going too low can work against you. However, if you can back up the reasons for a lower offer, the dealer might be willing to work with you. Be prepared to make several different offers before you come to a price that both parties agree on.
Learn about buying a used motorcycle versus a new one.
Tips for buying a new motorcycle from a dealer
When you're buying a new motorcycle from a dealer, your first instinct will be to check out the ones that hold the most appeal to you, either for their design, their speed, or some other factor. Once you find a motorcycle that catches your eye, research motorcycle insurance cost. Two motorcycles may cost the same to buy, but one might cost significantly more to insure.
Don't wait until you've purchased a motorcycle to research what it will cost to insure. Calculate the cost of motorcycle insurance along with your monthly payments to determine whether you can afford a bike. You should also consider what type of insurance and the motorcycle insurance coverages and limits you will need to carry. If you finance the motorcycle, the cost of insurance will play a role in what you can afford.
After you've decided on cost, think about features. Ask yourself what you need in a motorcycle. Consult a motorcycle buying guide to help you sort through the wide variety of bikes available. If you're on the shorter side, find out whether the handlebars are comfortable to hold and if they're adjustable. Feel how heavy the bike is and test out how easy or difficult it is to shift gears. Don't be afraid to ask questions of the salesperson.
Not every dealer offers test drives, but take advantage if they do. There is no better way to determine whether a motorcycle is a good fit for you than to take it for a spin. If you can't take it for a test ride, make sure to sit on it and get a feel for its weight. Ask the salesperson to show you how the motorcycle works.
How to insure your new motorcycle with Progressive
Online
Answer easy questions, choose your coverages, and get the protection you need.
Get a motorcycle insurance quote
Call a rep
Speak with a licensed representative who will help you through the entire process.
Call 1-866-749-7436
Through an agent
Get expert advice from a licensed independent agent near you.
Find an agent online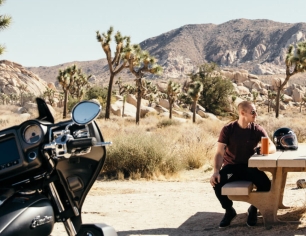 Enjoy life on two wheels with motorcycle insurance from Progressive